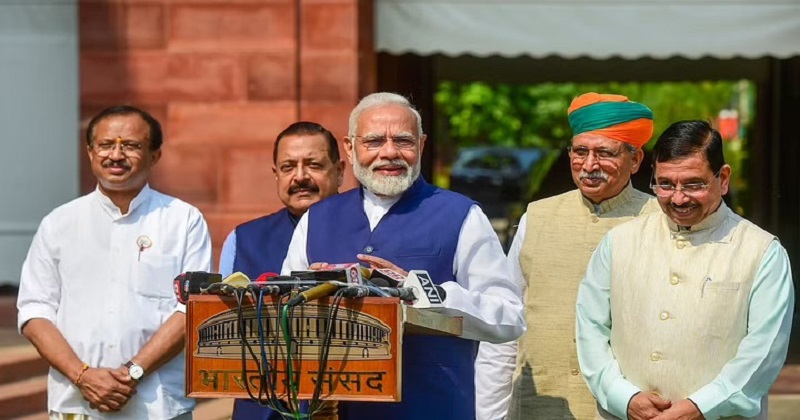 On Monday, July 18, voting for India's next president coincided with the start of Parliament's Monsoon Session. While the Monsoon Session is expected to last until August 12, presidential voting in the Parliament and state legislative Assemblies took place until 5 p.m. on Monday. The votes will be counted on July 21.
Nearly 4,800 elected MPs and MLAs voted to elect India's 15th president, with National Democratic Alliance candidate Droupadi Murmu holding a clear lead over Opposition candidate Yashwant Sinha, with more than 60% of the vote expected to go in her favour. Between the election of India's 15th president and the start of the Monsoon Session, the following are the top ten developments in Parliament today:
The Rajya Sabha had to be adjourned due to protests and disruptions by Congress MPs over issues such as price increases and GST.
Prior to that, Rajya Sabha observed silence in memory of the departed, including former Japanese Prime Minister Shinzo Abe, ex-UAE President Sheikh Khalifa Bin Zayed Al Nahyan, and legendary Hindustani classical musician Pandit Shivkumar Sharma.
Cricketer-turned-politician Harbhajan Singh, BCCI vice president Rajeev Shukla, P Chidambaram, and Kapil Sibal were sworn in as Rajya Sabha members alongside nearly 23 other leaders.
The Lok Sabha was also adjourned due to the opposition's outrage over price increases.
Dinesh Lal 'Nirahua' Yadav of the BJP from Azamgarh (Uttar Pradesh), Shatrughan Sinha of the TMC from Asansol (West Bengal), and Ghanshyam Singh Lodhi of the BJP from Rampur (Uttar Pradesh) took their oaths as Lok Sabha members.
Meanwhile, Prime Minister Narendra Modi, former Prime Minister Manmohan Singh, Congress interim leader Sonia Gandhi, Home Minister Amit Shah, and others voted in Delhi at Parliament House.
The Election Commission allowed 736 electors, including 727 MPs and nine legislative Assembly members, to vote, with 730 voting.
As voting began on Monday, Opposition candidate Yashwant Sinha urged voters to vote for him in order to 'save democracy'. Droupadi Murmu, the NDA candidate, and Sinha faced off in the election.
Interestingly, Haryana Congress MLA Kuldeep Bishnoi, MLA Mohammed Moquim, Jharkhand MLA from Nationalist Congress Party (NCP) Kamlesh Singh, and senior Samajwadi Party MLA Shivpal Yadav voted for rival candidate Murmu.
All India United Democratic Forum (AIDUF) MLA Karimuddin Barbhuiya claimed that 20 Congress legislators had cross-voted in favour of Murmu, and that he had evidence to prove it.