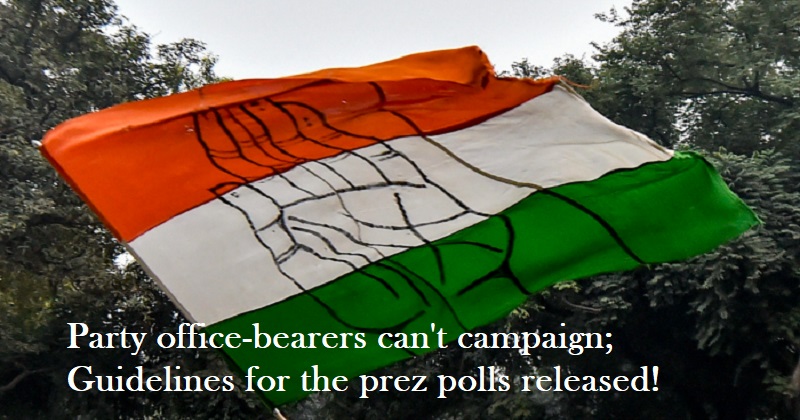 New Delhi: The Congress on Monday released a set of election rules ahead of its presidential vote, prohibiting party office holders from running for office. The criteria given by the Congress' central election body stipulated that anyone who wanted to endorse a candidate would first need to resign from their organisational position.
According to the party, Mallikarjun Kharge and Shashi Tharoor are running for president of the Congress in their individual capacities, with the delegates free to vote for whichever candidate they like. AICC general secretaries/in-charges, secretaries, joint secretaries, Pradesh Congress Committee (PCC) presidents, Congress Legislature Party (CLP) leaders, heads of frontal organisations, chiefs of departments, cells, and all official spokespersons 'shall not campaign for or against contending candidates,' it stated.
The statement read, 'If they choose to support any candidate, they must first resign from their organisational post, and only then may they engage in the campaign process'. On October 17, voting will take place in the presidential election for the Congress. On October 19, the vote-counting process will begin, and the results will be announced that same day.
The poll will be attended by around 9,000 Pradesh Congress Committee (PCC) representatives. The Congress requested that all PCC presidents show the candidates civility while they were in their respective states. The PCC presidents agreed to set up a meeting space, seats, and other equipment for public announcements for the candidate who desired to host the gathering of PCC delegates.
However, it said that the PCC president could not personally summon a meeting of this kind. It was noted that it was the proposer's responsibility, as well as the supporters of the competing candidates, to organise the meeting. According to the Congress, no candidate may engage in 'undesired pamphleteering' or any other form of published propaganda during the election.
The party issued a warning: 'Controverters of these procedures shall render the candidatures election illegal and make them subject to disciplinary action'.  It stated that the greatest caution must be used to guarantee that there is no ill-intentioned campaign against any candidate. ' The same would make the celebration look bad. At all costs, it is necessary to maintain the election's sensitivity', it issued a warning.
Tharoor said in a tweet that he welcomes the party's chief election authority's statement about the organization's presidential election. He announced his resignation as the head of the Professionals' Congress in another tweet. 'For those who are curious, I've already sent in my resignation letter to the Congress President as the head of @ProfCong last month', he stated.