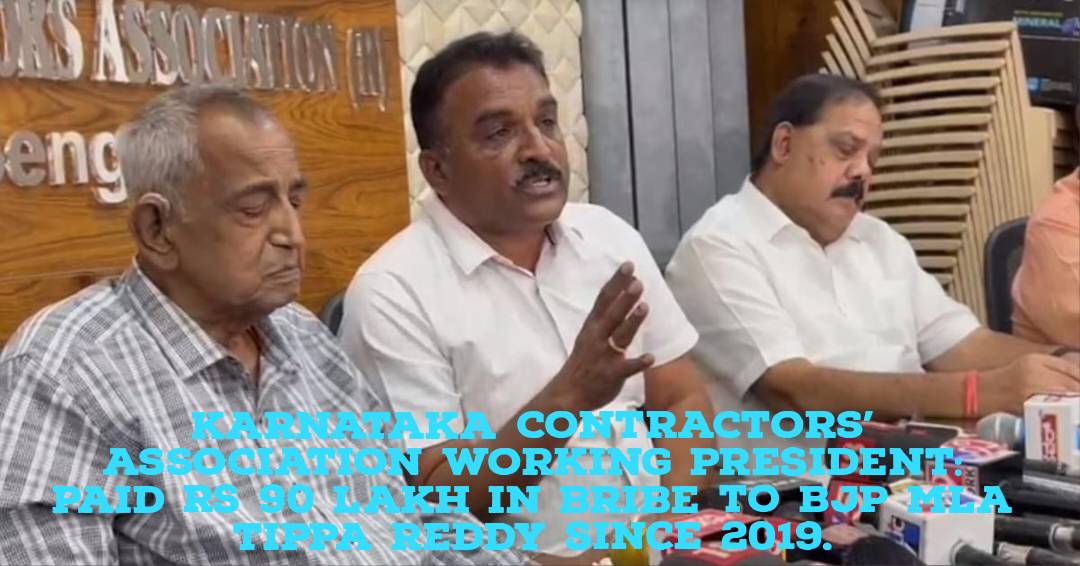 Manjunath, the working president of the Karnataka Contractors' Association, claimed on Monday that Tippa Reddy, a Chitradurga MLA for the Bharatiya Janata Party (BJP), had received a bribe of Rs 90 lakh from him from 2019 to 2022 for working on various development and construction projects in the state.
Manjunath claimed, 'BJP Chitradurga MLA Tippa Reddy initiated corruption in Chitradurga,' while speaking at a press conference. We have WhatsApp records and audio. The association has written us letters, but when we called them, they inquired as to why we had sent the letter.
He also claimed that he gave the Assistant Executive Engineer a 10% commission during the Covid epidemic (AEE). Manjunath stated, 'I have erected the PWD building and the final bill has not been delivered for three years,' adding, 'During the second wave of Covid, I paid another 10%.'
During the media interview, he also demonstrated the hand signals that MLAs are said to use to indicate the requisite amount of commission. He asserted that MLAs displayed hand signals depending on whether the bribe represented 5, 10, or 15% of the entire cost of the project being accepted.
'A 25% commission is being taken in the minor irrigation sector. I have audio of additional contractors admitting to paying bribes.' Manjunath, the working president of the Karnataka contractors' organisation, claimed, 'We have an audio recording of the conference call with the MLAs also.'
After contractor Santosh Patil, who had accused minister KS Eshwarappa of corruption and demanded a 40% commission for a government project, was discovered dead at a lodge in Udupi city in April 2022, the entire controversy caused a stir in the BJP-ruled state of Karnataka.