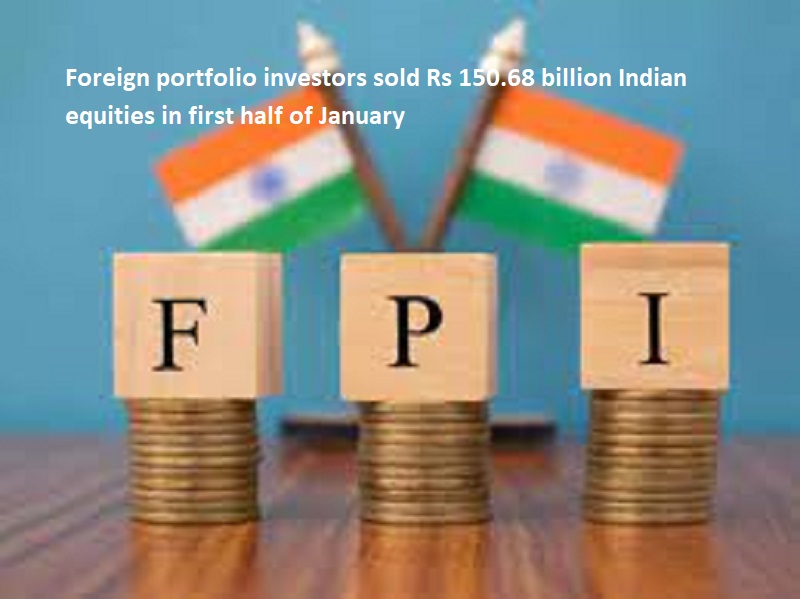 Mumbai: Data released by the National Securities Depository Limited (NSDL) has shown that Foreign portfolio investors (FPIs) sold Indian equities worth Rs 150.68 billion rupees ($1.85 billion) in the first half of January.  As per the data, the FPIs sold off Rs 67.01 billion worth of shares in financials, followed by Rs 34.57 billion in IT and Rs 28.25 billion in oil and gas consumable fuels.Meanwhile, The FPIs invested Rs 25.18 billion in metal sector.
As per NSE data, between January 2-6, FPIs pulled out Rs 5,872 crore from equities, Rs 1,240 crore from debt market, Rs 760 crore from debt-VRR and Rs 36 crore from the hybrid market.
Also Read: Nationalized bank offers credit card against fixed deposit
Also, foreign institutional investors (FIIs) remained  net sellers the entire week. From January 2nd to 6th, FIIs have pulled out Rs 7,813.44 crore from Indian equities. On Friday, FIIs outflow was highest in the current week to the tune of  Rs 2,902.46 crore followed by selloffs of  Rs 1,449.45 crore and  Rs 2,620.89 crore on January 5th and January 6th. From January 2-3rd, the outflow was at  Rs 840.64 crore.