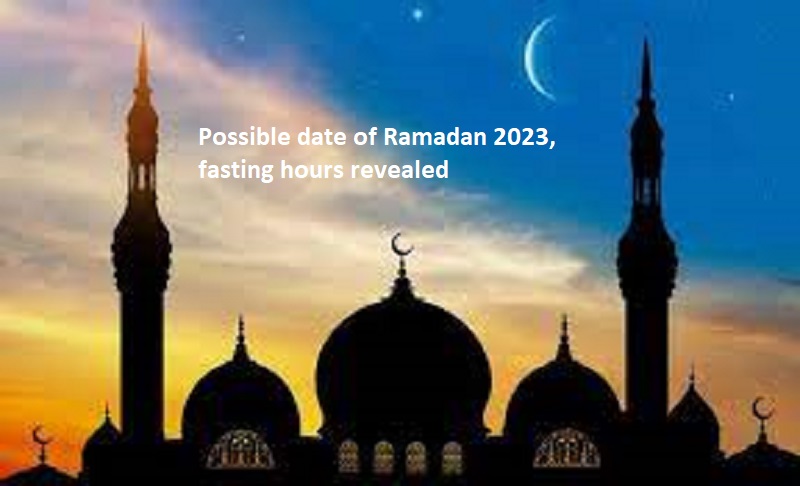 Dubai: An astronomer based in the UAE has announced the possible date of Ramadan this year. Ibrahim Al Jarwan, Chairman of the Board of Directors of the Emirates Astronomy Society, revealed this.
As per Ibrahim Al Jarwan, the new crescent for Ramadan would be born at 21:23 pm on Tuesday, March 21 – which is after sunset – and that the next day it would be 10 degrees above the western horizon and set after 50 minutes. The first day of the month of Ramadan for the Hijri Year 1444 will likely start on Thursday, March 23, 2023.Friday, April 21 is the expected first day of Eid Al Fitr.
The new crescent for the month of Shawwal will be born on Thursday, April 20 at 8:13 am and will be 4 degrees above the western horizon at sunset, which makes the next day the first day of Shawwal. Fasting hours at the beginning of the Holy Month, from dawn to dusk, will be around 13 and half hours and will reach 14 hours and 13 minutes towards the end of the month.
Also Read: Stock markets to remain shut 15 days this year: Full list 
The  actual date will be determined by the sighting of the crescent moon, on which the Islamic calendar is based. Islamic months last either 29 or 30 days, depending on the sighting of the crescent.
Ramadan is the holiest in the 12-month Islamic Hijri calendar. The Islamic festival of Eid Al Fitr will mark the end of the holy month. Eid Al Fitr is marked on the first day of Shawwal – the month that comes after.
During Ramadan, Muslims fast from sunrise (Fajr) to sunset (Maghreb). There are two main meals during the month – Suhoor, taken before sunrise, and Iftar, the day's first meal after sunset.