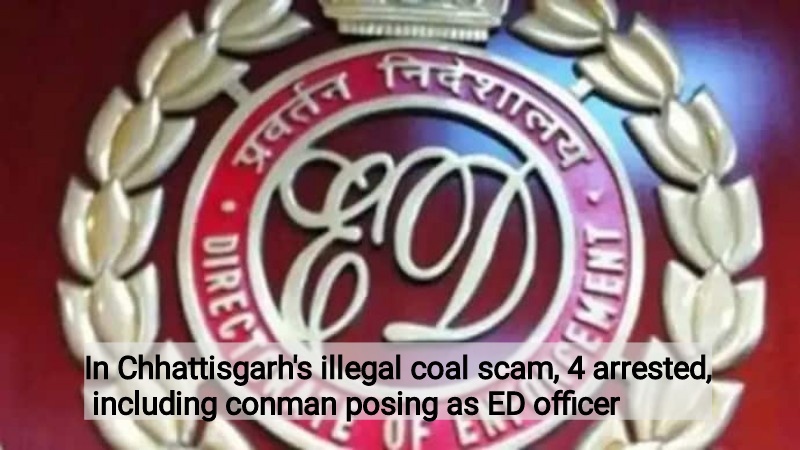 A con artist who pretended to be an ED officer was among the four additional accused the Enforcement Directorate (ED) arrested in connection with the illegal coal levy scam in Chhattisgarh.
Earlier, the ED filed a prosecution complaint against the accused under the Prevention of Money Laundering Act and issued a provisional attachment order, attaching proceeds of crime totaling Rs 152.5 crore.
Four people were detained in connection with recent searches that took place in Pune, Delhi, and Chhattisgarh.
Deputy Secretary to Chief Minister Bhupesh Baghel and close confidant of IAS officer Saumya Chaurasia, the main suspect in the illegal coal levy scam, is Deepesh Taunk.
Sandeep Kumar Nayak (Surajpur) and Shiv Shankar Nag (Korba) are mining officers who knowingly and voluntarily helped the cartel's syndicate, which was led by Suryakant Tiwari, president of the Badal Makkar District Congress, extort money and collect the proceeds of crime.
?Rajesh Chaudhary is a constable who defrauds people by posing as a middleman in legal disputes. Sunil Agarwal, an accused who has already been arrested in connection with the money laundering case and is currently being held in judicial custody, was the target of desperate attempts to have him released, according to the ED investigation. At that point, Chaudhary, a self-described 'liaisoner,' made contact with Sunil's family.
According to ED officials, the central financial probe agency launched an investigation against Rajesh Chaudhary after receiving specific intelligence inputs and arrested him in accordance with the pertinent PMLA provisions because it was found during the investigation that he had acquired some of the proceeds of crime.
The agency found during Chaudhary's interrogation that he had created a fake ED officer ID card issued in Manoj Sharma's name and had also identified himself as an ED employee in numerous KYC documents submitted to banks.
The accused were brought before a Raipur money laundering special court, which remanded them to the ED's custody for three days until January 30. More research is being done.