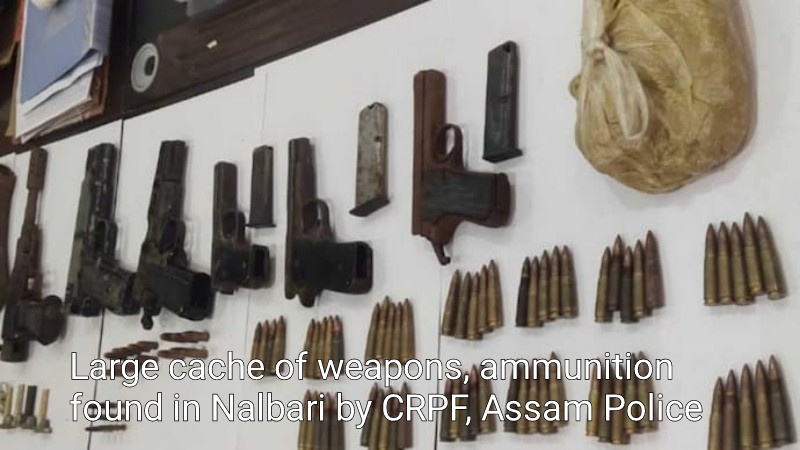 In a joint operation, teams from the Central Reserve Police Force (CRPF) and Assam Police have extricated a sizable cache of weapons and ammunition from Nalbari in Assam.
Armed members of the 136 Battalion CRPF and Assam Police began a search operation in the village of Sengnoi in Nalbari based on intelligence reports.
The security agencies seized four pistols, two air pistols, seven magazines of various types, 107 rounds, including 79 AK-47 rounds, five detonators, four rounds of locally produced ammunition, and 600 g of an unidentified substance that was likely some sort of explosive.
In the course of the search operation, the security personnel found a sizable cache of weapons and ammunition buried under the ground, according to Sudhakar Singh, Superintendent of Police of the Nalbari district.
'Based on the information given by Army intelligence and CRPF intelligence, a search operation was conducted by police and CRPF in a jungle area near Sengnoi village under Nalbari police station on Saturday,' an official said.
'Prima facie, it appears, that suspected militants had buried the arms and ammunition in the jungle area,' the official added.
In a related incident, Jharkhand Police and members of the CRPF descended upon a Naxal bunker in the Burha Pahar region on Friday, seizing weapons and ammunition in the process.
When speaking to the media, Rajkumar Lakra, the deputy inspector general of police, said: 'It is an extension of 'Operation Octopus' and was launched on January 31. In this operation, the District Police, CRPF, 209 CoBRA, and Jharkhand Jaguar nabbed one light machine gun (LMG) and some other ammunition. These arms were found in small pathways under a bunker.'
On December 26, the Assam Police also found a sizable haul of weapons, ammunition, and explosives at the South Jalan Tea estate in the state's Dibrugarh district. Two hand grenades, explosives, and a few live AK series rifle rounds were all present in the arsenal.