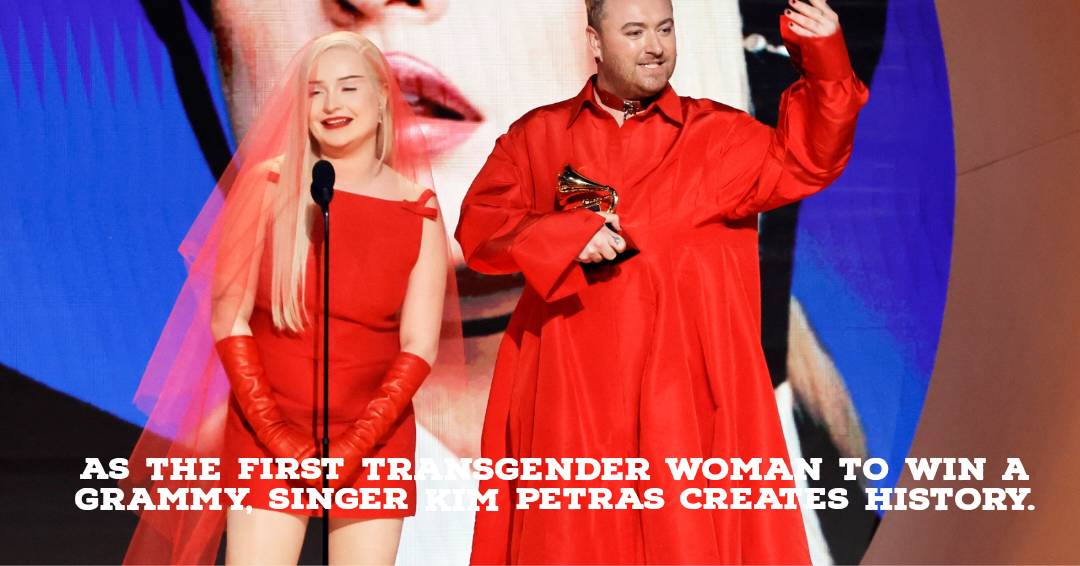 Kim Petras, a singer, and Sam Smith on Monday shared the Grammy Award for best pop duo. At the 65th Annual Grammy Awards, she made history by becoming the first openly transgender woman to win the Best Pop Duo/Group Performance prize for the song Unholy with Sam Smith.
The pair accepted the trophy on stage while wearing matching lavish red gowns at the presentation. Kim thanked the Academy and acknowledged that she is the first transgender woman to win in the prestigious category during her acceptance speech while wearing a red short dress and veil.
'Sam graciously asked me to accept this award because I am the first transgender woman to do so. This has been such a fantastic, incredible experience for me. I just want to express my gratitude to all the amazing transgender icons that came before me and pushed these doors wide so that I could be present tonight' said Kim.
The late Scottish electronic musician Sophie, who passed suddenly in January 2021 at the age of 34, was also honoured by the German songwriter, whose collaboration Unholy peaked at number one on the Billboard Hot 100 in October 2022.
'Particularly Sophie, a friend who died two years ago but always had faith in me and warned me that this would happen. I adore you, and my music will always be inspired by you' Kim stated.
Kim concluded her acceptance speech by expressing her gratitude to her mother. 'I wouldn't be where I am today if it weren't for my mother's belief that I was a female when I was growing up in a rural area of Germany,' she added.
Beyonce became the most decorated artist in Grammy history, but after Viola Davis won a Grammy for the audiobook version of her biography Finding Me, she earned a legitimate EGOT (Emmy, Grammy, Oscar, and Tony).