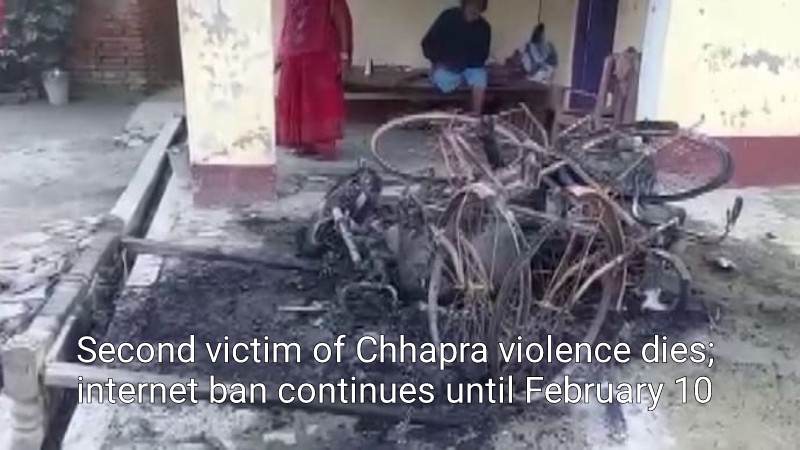 On Wednesday night, one of the victims in the Chhapra violence case died from his injuries while undergoing treatment at a Patna private hospital, bringing the total number of deaths in the case to two.
Rahul Kumar Singh, who was in critical condition and receiving treatment at Patna's Ruban Hospital, died while Alok Kumar Singh, the third victim, is still receiving care.
Vijay Yadav, the husband of the village head, was shot on February 2 in Mubarakpur village, which is under the jurisdiction of Manjhi police station.
Following the incident, Amitesh Singh, Rahul Kumar, and Alok Kumar were summoned to Vijay and his aides' chicken farm in Sidharia Tola where they were brutally attacked while being bound by their hands and legs.
Vijay believed Amitesh and his companions had shot at him on February 2. After the vicious attack, the victims were taken to a hospital, where Amitesh died from his injuries.
The home of Vijay Yadav was attacked and set on fire by members of Amitesh's family and other relatives. In the village, they also set fire to residences owned by Vijay and his supporters.
In this case, the police have so far filed 6 FIRs, and 13 people have been taken into custody. The main accused in the case, Vijay Yadav, is still at large.
Following Vijay Yadav's continued evasion of arrest, the state government began the process of attaching his property on Wednesday.
The district's ban on internet access has been extended until February 10 by the home department of the Bihar government. Internet access had previously been restricted in Chapra until February 8.
Under Manjhi police station, there is still a significant police presence in Mubarakpur village and the surrounding areas.