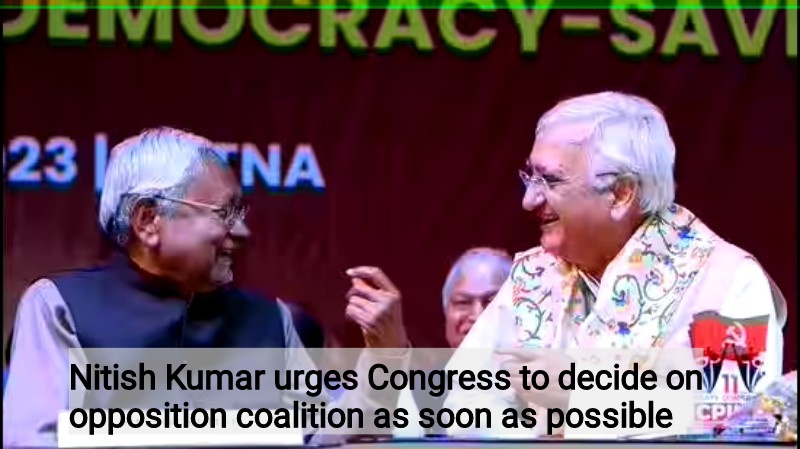 Nitish Kumar, the chief minister of Bihar and the leader of the Janata Dal-United (JD-U), urged the Congress to decide as soon as possible whether to form an opposition coalition to the Bharatiya Janata Party (BJP) for the 2024 Lok Sabha elections.
Speaking at the Communist Party of India (Marxist-Leninist) or CPI-ML Liberation's national convention in Patna, Kumar urged the grand old party not to take its success from the Bharat Jodo Yatra for granted and to use the momentum to bring together the opposition parties. In the event that the opposition's alliance materialises, he continued, the BJP's total support could drop to 100.
Salman Khurshid, a senior member of the Congress, and Tejashwi Prasad Yadav, the deputy chief minister and leader of the Rashtriya Janata Dal (RJD), both attended the event.
'I am waiting for the Congress's nod to proceed, as other parties are willing to come together. The Congress shall decide which party it would align with and in what states,' Kumar said.
He attacked the BJP-led government, claiming that the situation in the nation was miserable. 'They (BJP leaders) are doing nothing for the people. They are indulging in self-praise and distorting history. We (opposition parties) want to take the country forward and hence it required the opposition's unity,' Kumar said.
Tejashwi Prasad Yadav echoed the chief minister's views on the anti-BJP coalition when he said that all opposition parties needed to come together and create an action plan to combat the BJP and its allies.
He added that the Congress party should prepare for the seats where it is in a direct race with the BJP. 'The Congress must decide on its role, as all the opposition parties are ready in the greater interest of the country,' he said.
Tejashwi said that they (Mahagathbandhan) do not have Ambani-Adani to bankroll them. 'We also don't misuse government institutions to crackdown the opposition. Yet despite being targeted, we came together in Bihar to teach the BJP a lesson and establish unity based on the country's interest,' he said.
Salman Kurshid promised to convey the message to the party's top leadership and, if necessary, to make an argument in support of it.