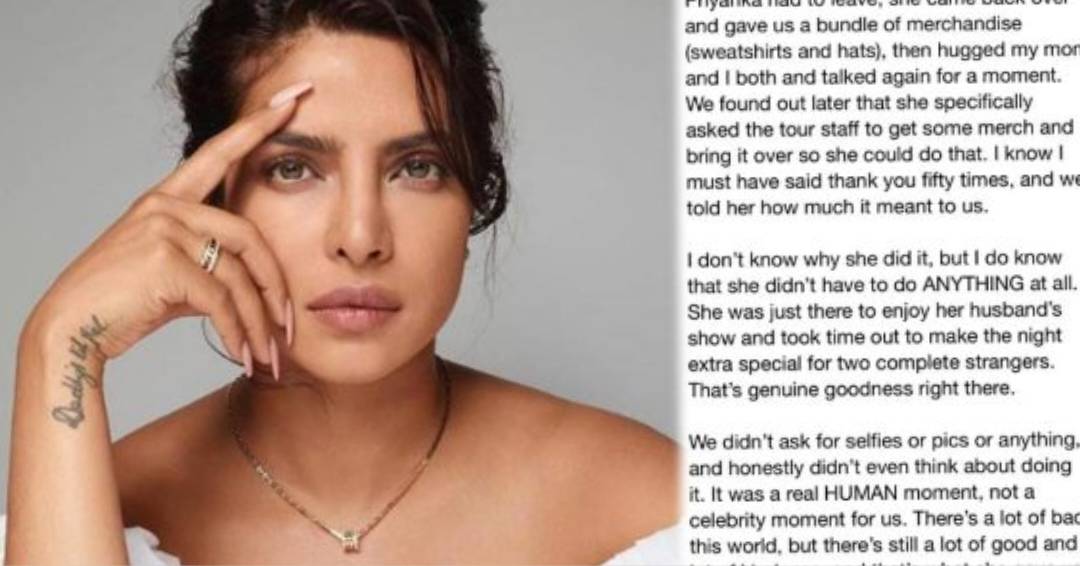 Priyanka Chopra was commended on Twitter by a Jonas Brothers fan for being polite to her and her unwell mother while they were at a concert in Las Vegas.
Lisa Dawn, a self-described movie nerd and hockey enthusiast, claims that Priyanka observed that she and her mother, a cancer sufferer, were having trouble seeing over the crush of people during the event and called over staff to see if they would want to seat in the front.
The tweet reads like this: 'As a result, I gave my mother these tickets for Christmas since, sure, she too enjoys the JoBros. Priyanka passed us as she walked by the row in front of the VIP area where we ended up. I'm not exactly sure what started all of this. But as many of you are aware, my mother has been fighting cancer for three years, and she just got her head shaved. Priyanka probably observed that we had to stand up a lot to look over the people in front of us, and that mum had to continue sitting because she can't stand up for very long' Added she.
'The tour personnel that was with her approached us after about 30-35 minutes of the performance and asked if we would like to come up to sit with them. And when we asked, 'What,' he essentially responded, 'Mrs. Jonas desiresyou to come up here'.'
She claims that Priyanka arrived, introduced herself, and even inquired as to if we needed anything to eat or drink. 'As the event was about to end and Priyanka had to go, she returned and gave us a package of goods before giving my mom and I both a hug and continuing their conversation for a short while. She didn't have to do anything at all, yet I have no idea why she did it. She only intended to watch her husband's performance, but she took the time to make the evening extra special for two total strangers' Added she.