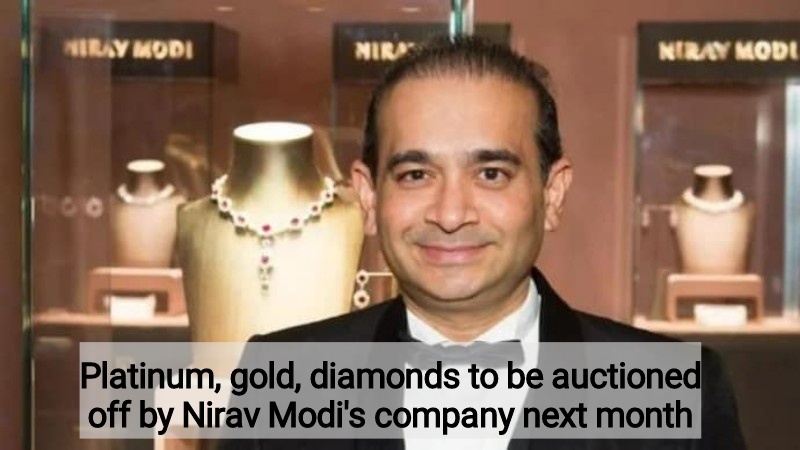 An auction of gold, platinum, diamonds, and jewellery from Firestar Diamond International, owned by the wanted diamond tycoon Nirav Modi, will take place on March 25.
Santanu T Ray, who was chosen by the Mumbai bench of the National Company Law Tribunal (NCLT) in February 2020 to serve as Firestar Diamond International Private Limited's liquidator, has issued the sale notice.
Ray is in charge of running the company's affairs.
On March 25, an online auction will be held to sell jewellery made of gold, platinum, and diamonds.
On the day of the auction, the reserve price for the items up for bid will be made public.
The inventory is listed as finished jewellery, loose diamonds and coloured stones, semi-finished jewellery, gold, platinum, and silver in the e-auction document.
The Gemological Institute of India has been hired by the liquidator to estimate the value of the priceless items.
According to MCA records and the e-auction document, Nirav Deepak Modi and Haresh Vrajlal Shah were the only directors and signatories of the corporate debtor as of the date the liquidation process began.
The offices, factories, and all other major and substantial assets of the corporate debtor, Nirav Modi, have been sequestered by the Enforcement Directorate since the beginning of 2018.
Nirav Modi and his uncle Mehul Choksi engaged in one of the biggest bank frauds in the nation by fabricating fake Letters of Undertaking (LoUs) in order to steal Rs 14,000 crore from the state-owned Punjab National Bank with the help of some bank employees.
Days before a case was filed against him and his associates, Nirav Modi left India in 2018 to avoid the law.
Nirav Modi lost his appeal against extradition to India last November after the High Court in London determined that it would not be oppressive or unjust to extradite him to face fraud and money laundering charges. This decision followed a protracted legal battle with many twists and turns.