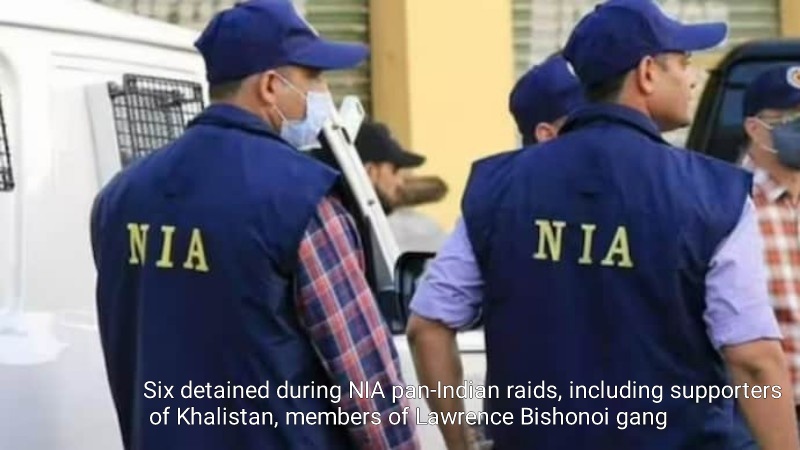 Six people, including close associates of gangster Lawrence Bishnoi and supporters of Khalistan, have been arrested following recent NIA nationwide raids at 76 locations in eight states. Among those arrested is Lucky Khokhar, a close friend of Arshdeep Singh alias Arsh Dalla, a 'designated terrorist' with ties to Canada.
The raids, which were conducted in Punjab, Haryana, Rajasthan, UP, Delhi, NCR, Maharashtra, and MP, also resulted in the arrest of associates of the gangsters Lawrance Bishnoi, Jaggu Bhagwanpuria, and Goldy Brar, according to the NIA.
On August 20 of last year, the investigation agency filed a suo moto case against seven people, including Harwinder Singh, Lakhbir Singh Sandhu, and Arshdeep Singh. The agency had previously detained one person in the case, Deepak Ranga.
According to the NIA's preliminary investigations, many criminals who were top gangsters in India fled to nations like Pakistan, Canada, Malaysia, the Philippines, and Australia, where they conspired with other criminals incarcerated in various states to plan terrorist and criminal activities.
These organisations were engaging in targeted killings while also smuggling drugs, weapons, and money through hawala and extortion.
Lucky Khokhar, a resident of Bhatinda, Punjab, was apprehended in Sri Ganganagar, Rajasthan, on Tuesday. He had been in contact with Arsh Dala in Canada on a regular basis and had recruited for him as well as received money from him for engaging in terrorism-related activities. In accordance with his instructions, he had given weapons and ammunition to Arsh Dala's associates in Punjab, who then used them to carry out the most recent murder in Jagraon, Punjab.
A NIA spokesperson said that Khokhar was working for Dala, who has smuggled weapons, ammunition, explosives, IEDs, and other contraband across international and intrastate borders in India for a number of Khalistani terror organisations, including the Khalistan Liberation Force, Babbar Khalsa International, and International Sikh Youth Federation.
Lakhvir Singh and Hari Om, also known as Titu, were also detained. Lakhvir had nine weapons in his possession when they found him. He is a notorious felon and a friend of Chhotu Ram Bhaat, who was previously detained in connection with the case. In this case, Kaushal Choudhary, Amit Dagar, Sukhpreet Singh, Bhupi Rana, Neeraj Bawana, Naveen Bali, and Sunil Balyan are among the nine accused the NIA has so far detained.