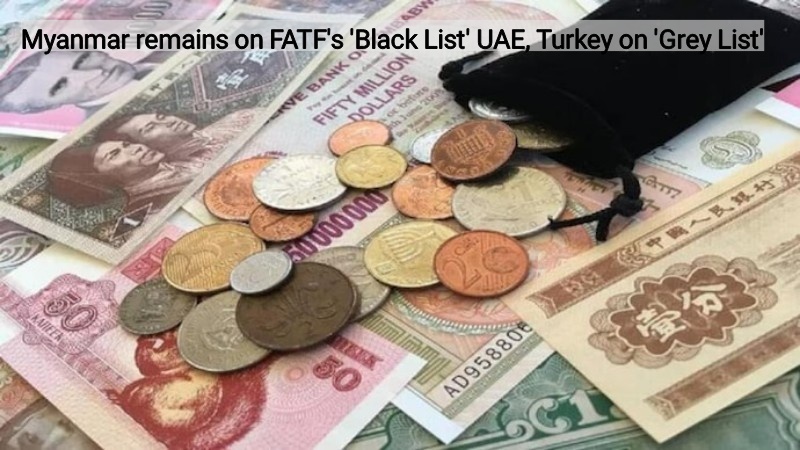 The FATF's 'Black List' continues to include Myanmar, Iran, and North Korea, and on Friday, the international agency that monitors money laundering and terrorism financing referred to all three nations as 'high-risk jurisdictions.' The United Arab Emirates (UAE), Turkey, Jordan, South Africa, and 20 other countries will be on the Financial Action Task Force's 'Grey List' and will be subject to increased monitoring, according to a statement released following the second FATF plenary in Paris, which was presided over by T Raja Kumar of Singapore. In October of last year, Pakistan was removed from the 'Grey List.'
The FATF defines 'Black List' countries as those that are 'high-risk jurisdictions subject to a call for action,' while 'Grey List' countries are those that are subject to 'increased monitoring.' The World Bank, Asian Development Bank, International Monetary Fund (IMF), and European Union do not provide financial assistance to nations on the 'Black' and 'Grey' lists (EU).
Additionally, they are subject to numerous international sanctions and economic and financial limitations. The FATF advised Myanmar to keep implementing its action plan to address deficiencies by proving a better understanding of money laundering risks in key areas, proving on-site and off-site inspections are risk-based, and proving 'Hundi' operators are registered and supervised. Myanmar will continue to be on the list of nations under scrutiny until its entire action plan is finished, the FATF said, urging it to work to fully address its anti-money laundering deficiencies.
The FATF noted that for the UAE, since February of last year, when the nation made a high-level political commitment to work with the FATF to strengthen the effectiveness of its anti-money laundering and counter-terrorist financing (AML/CFT) regime, it has shown significant progress, including by demonstrating a sustained increase in outbound requests for mutual legal assistance to aid in the investigation of terror financing and money laundering allegations.
The UAE should keep working to implement its FATF action plan by improving and maintaining a shared understanding of the risks of money laundering and terror financing among the various designated non-financial businesses, professional sectors, and institutions. This will ensure a more detailed understanding of the risk of abuse of legal persons, and where applicable, legal arrangements, for money laundering and terror financing, it said.