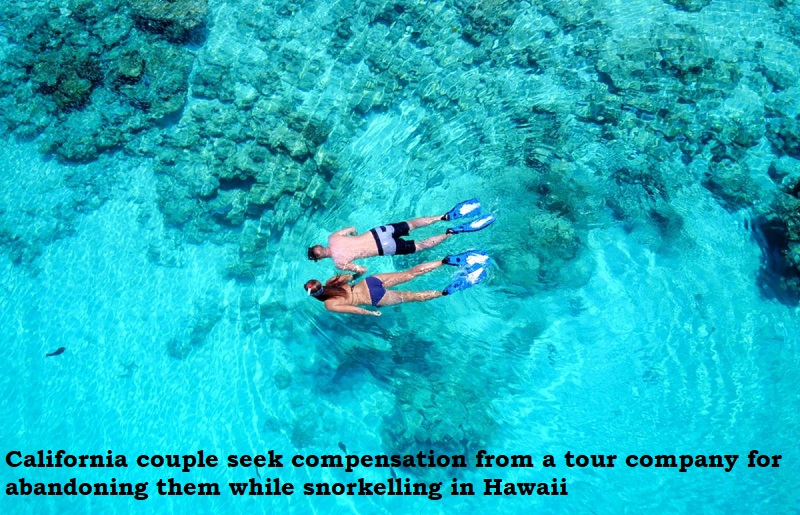 Imagine jumping into the sea, swimming alongside fish, and being mesmerised by the treasures that exist below the ocean's surface. Now picture returning to the surface and finding yourself stranded in the midst of nowhere.
That happened to a Californian couple in that manner. Alexander Burckle and Elizabeth Webster, a married couple, were on a snorkelling trip in Hawaii when their tour operator abandoned them, forcing them to swim half a mile to safety.
They have now filed a lawsuit against Maui Sail Company, the trip operator, for the incident and the ensuing mental anguish. They are asking for $5 million in damages for general losses and mental anguish.
The couple were on their honeymoon and had booked the trip to Lanai, a tiny island near Maui, in September 2021.
During the 10 am snorkelling expedition, they were told that the boat will be anchored in one location for an hour before moving on to the next location. Soon after they swam into the ocean, the water turned 'choppy.'
After battling the waves for 15 minutes, they saw that the boat had deserted them.
Speaking to Insider, the couple's lawyer said that the tour company failed to set 'boundaries for snorkelling,' identify a lifeguard for the excursion or make sure that the snorkelers had a buddy system.
The lawsuit as per Guardian also claims that in spite of the crew members doing three headcounts, they failed to account for the missing couple and moved away. The dehydrated and frightened honeymooners then had to swim to shore, where they were eventually helped by an island resident.