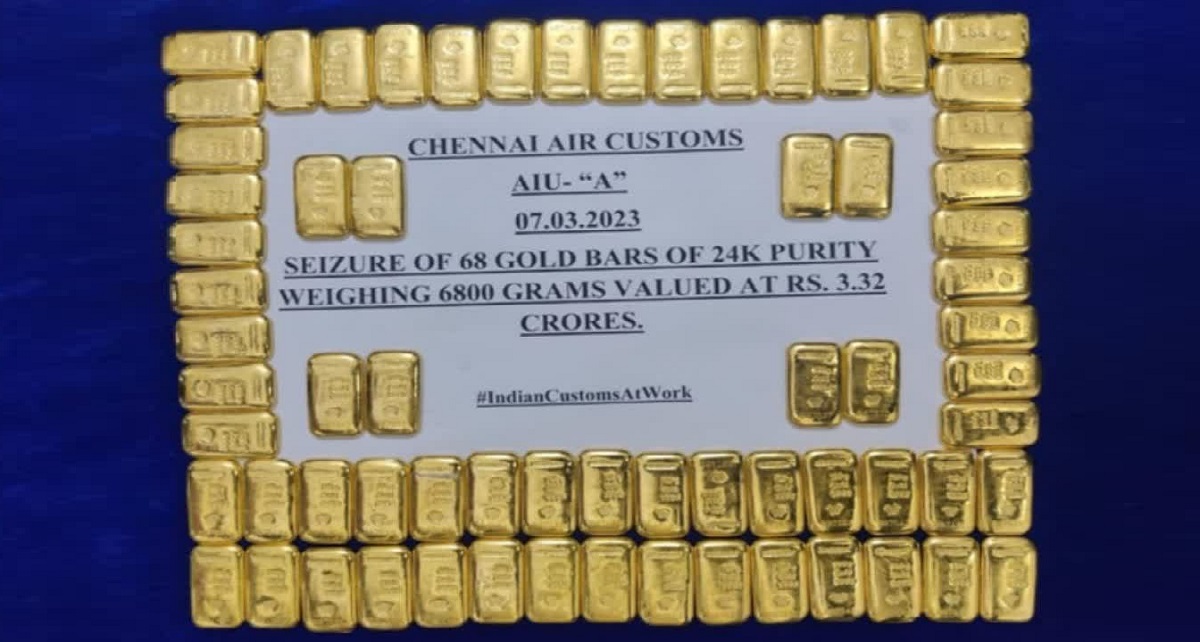 Chennai: Two passengers, who arrived from Singapore, were arrested at Chennai airport on Wednesday for carrying gold weighing 6.8 kg valued at Rs 3.32 crores, Chennai customs said.
Chennai Customs in a tweet said, 'Based on Intel, 2 pax who arrived from Singapore by AI-347 and 6E-52 were intercepted by Customs on 07.03.23. On search of their baggage, gold totally weighing 6.8 kg valued at Rs 3.32 crore was recovered/ seized under the CA,1962. Pax were arrested and further investigation is on'.
In a similar incident recently in Delhi, a Kenyan passenger was arrested at the Indira Gandhi International Airport (IGIA), for concealing bars of gold in an oxygen concentrator bag, officials said. On the basis of Advance Passenger Information System (APIS) profiling, a Kenyan passenger arriving from Nairobi by EK516 on March 6, 2023, was followed discreetly by officers of the Indira Gandhi International Airport (IGIA) customs from the flight gate.
According to officials, the passenger was a medical professional carrying a portable oxygen concentrator which was providing oxygen support to a critically-ill four months old infant who was visiting India with his parents for cardiac surgery. On personal search, taking due care for the safety of the infant, seven bars of gold weighing 7 kg (approx) ingeniously concealed in the oxygen concentrator bag were recovered.