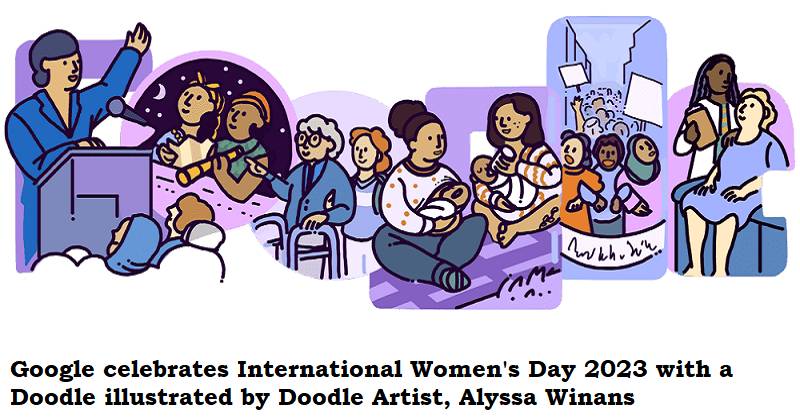 The Google Doodle for today recognises International Women's Day by highlighting the various ways that women assist one another. The short stories that accompany each 'GOOGLE' letter illustrate just a handful of the various ways that women all around the world collaborate to advance and elevate one another's standard of living.
Influential women who support advancement on matters that are essential to the lives of all women, women who gather to research, educate themselves, and advocate for their rights. women who serve as people's primary carers in all spheres of society, women who are each other's most important mothers' networks.
Happy International Women's Day in appreciation of all the ladies who support one another in all facets of life.
(Her)story with Alyssa Winans
Today's Doodle was illustrated by Doodle Artist, Alyssa Winans. Below, she shares her thoughts behind the making of this Doodle:
Q: Why is this International Women's Day meaningful to you personally? 
A: Our theme this year was "women supporting women", so I was able to spend a lot of time reflecting on all the ways I've been supported by the other women in my life. I'm the youngest of three girls, so since birth I've always benefited from the wisdom and support of those who came before me! I'm grateful for that and all the ways I see women in my life standing up for each other and their values.
Q. Did any of your personal life experiences inform the direction of the illustration? If so, how?
A: Only tangentially! My one life certainly can't capture the full range of what being a woman is. One thing I was thinking about is that a few people around me in the past few years have had children, and have started talking about how complicated it was to navigate. Breastfeeding? Formula? In public? Workplaces?  So I did want to use one of the letters for two women feeding their children on the homepage as a nod to that experience.
Q. What do you hope people around the world will think and feel when they see this Doodle?
A: I know the full experience of what it means to be a woman certainly can't all be captured in one image, so I hope it's merely a jumping off point to reflect on how broad, complex, nuanced, and powerful the notion of womanhood is.