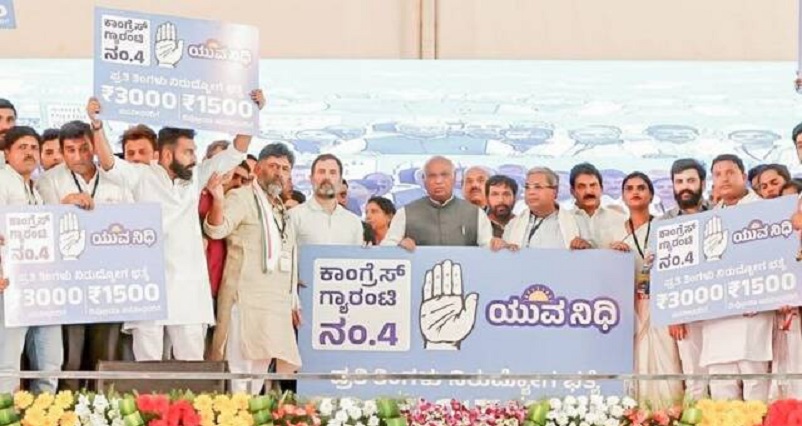 Belagavi: Sounding the poll bugle in Karnataka, Congress leader Rahul Gandhi on Monday attempted to end the speculations of an internal divide in the party stating that all leaders of the party will contest the elections together and sweep the Assembly polls slated later this year.
Rahul Gandhi also hit out at the Basavaraj Bommai led Bharatiya Janata Party government in the state on the issue of corruption and dubbed it as a '40% commission government', and said that the people of the state want to get rid of the 'most corrupt' government in the country. 'It is our message that we will fight the elections together. All leaders of Congress will fight together. The Congress party will sweep these elections because the BJP government is a government of 40% commission government. The people of Karnataka want to get rid of this government. I have told the leaders of Karnataka that I am ready to go to any district (to campaign) where there is my need in the elections', Gandhi said while addressing a public meeting.
The remarks of the Congress leader came amid the ongoing speculations of a infighting in the party among state Congress chief DK Shivakumar and former state Chief Minister Siddaramaiah. Gandhi further raked up the issue of the BJP MLA's son who was arrested for allegedly accepting a bribe of Rs 8 crore, and alleged that the state government attempted to 'shield' him.
'The son of the MLA is caught taking Rs 8 crore as a bribe, no action is taken, the government shields him. There were numerous job scams. Corruption is being done as all the benefits are being given to two-three selected people. The Congress party will give Rs 3,000 to every graduate for two years, and Rs 1,500 to every diploma-holder for two years because we understand your problem. We will give jobs to 10 lakhs youths in five years', he said while also announcing the strategy of the Congress party for the youths.
Recalling the Bharat Jodo Yatra, Gandhi said that the youths gave him two messages – one, regarding the inability of the government to provide them jobs, and second, the corruption in the government. 'The youths of Karnataka gave two-three messages. First, they said that jobs cannot be given to the youths in this state, no matter which degree you have or which college you study in. The Karnataka government is not able to give jobs to the youths of the state. The second message was from everyone, that the Karnataka government is the most corrupt government in the country. The Contractors Association wrote to the Prime Minister about the 40%commission being taken. But the Prime Minister has not responded to it till today', he said. 'The Bharat Jodo Yatra gave a message that this country belongs to everyone, not just two-three selected people, not just Adani', the Congress leader added.