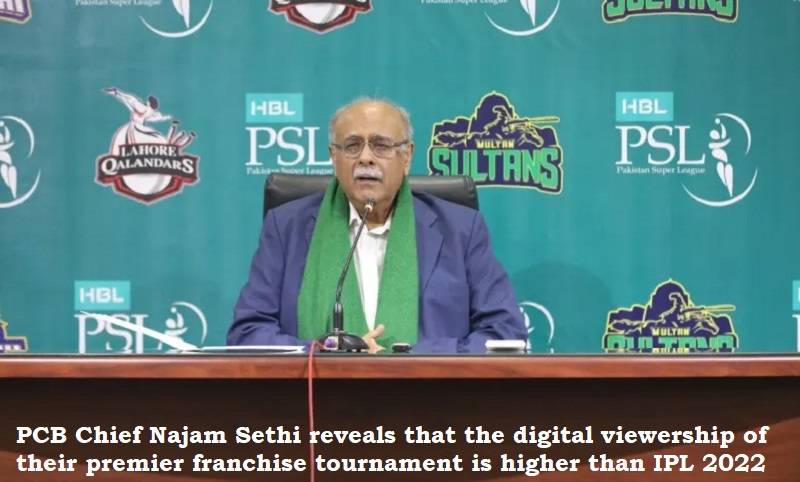 According to Pakistan Cricket Board (PCB) chief Najam Sethi, the digital viewership of the ongoing Pakistan Super League (PSL) season 8 has been higher than that of the Indian Premier League (IPL) 2022.
Sethi revealed the information in a tweet on March 19, 2023, stating that the PSL had surpassed the IPL in terms of digital viewership. He attributed the success to the popularity of the league and the hard work of the PCB and its partners.
The PSL, which is in its eighth season, has been one of the most popular cricket leagues in the world, featuring some of the top players from around the globe. The league has a strong fan following in Pakistan and has been successful in attracting viewers from other parts of the world as well.
In contrast, the IPL, which is widely considered to be the most popular T20 league in the world, has been facing criticism over the past few years for its scheduling and format. The latest season, which was held in 2022, saw a decline in viewership, with some fans expressing their dissatisfaction with the quality of cricket on display.
The success of the PSL in terms of digital viewership is a testament to the league's growing popularity and the efforts of the PCB to promote the sport in Pakistan and beyond. It remains to be seen whether the IPL can bounce back in the upcoming season and regain its position as the most-watched T20 league in the world.
Overall, the news is sure to be a cause for celebration for cricket fans in Pakistan and around the world, who will be eagerly waiting to see which team emerges as the champion of PSL 8.