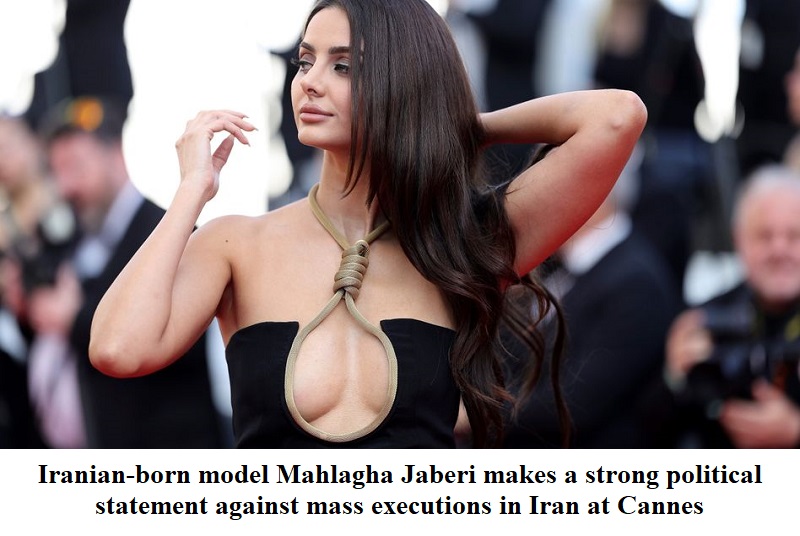 Apart from its focus on movies and fashion, the Cannes Film Festival has also become a platform for protests and strong political statements. Following a recent protest by a woman wearing the colors of the Ukrainian flag, Iranian-born model Mahlagha Jaberi took the opportunity to make a powerful political statement against mass executions in Iran.
Jaberi walked the red carpet of the festival wearing a black bodycon dress. What caught everyone's attention was the collar of the dress, which was a beige rope shaped like a noose, symbolizing the alarming number of executions in Iran. The dress was designed by Jila Saber.
Jaberi shared a video montage of herself wearing the dress with a message urging the end of executions. She dedicated her appearance to the people of Iran and thanked those who helped bring her vision to life.
Her dress created a sensation on social media, with many praising her bravery and patriotism. People expressed gratitude for the message she delivered and the hope for freedom in Iran.
The situation in Iran regarding executions is deeply troubling and has attracted global attention. Campaigners from organizations such as Iran Human Rights (IHR) and Together Against the Death Penalty have raised concerns about the significant increase in executions.
According to a joint report by IHR and Together Against the Death Penalty, the number of executions in Iran in 2022 was 75% higher than the previous year, with at least 582 people executed, the highest number since 2015.
The presence of Jaberi at the Cannes Film Festival, using her platform to draw attention to this alarming situation, highlights the importance of raising awareness about human rights violations and advocating for change. Her statement adds to the voices calling for an end to mass executions in Iran.