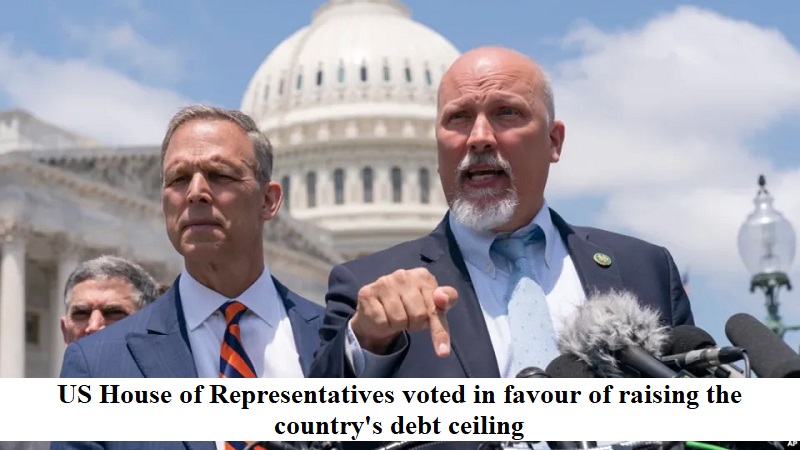 On Wednesday, the US House of Representatives voted in favor of increasing the country's debt ceiling, bringing the US closer to averting a debt default that would have negative consequences for both the US and the global economy. The US Treasury has set a deadline of just five days away.
The legislation faced deep divisions within the lower chamber of Congress, but it ultimately received 314 votes in favor and 117 against. The bill will now be sent to the US Senate for approval, and it is expected to pass before the end of the week.
The bill suspends the $31.4 trillion debt ceiling and garnered support from both Democrats and Republicans, although it faced opposition from hardline conservatives.
The House's bipartisan support for the legislation was significant, with 149 Republicans joining 165 Democrats in passing the negotiated debt ceiling agreement between Speaker Kevin McCarthy and President Joe Biden.
If signed into law, the bill would extend the debt limit for two years alongside a two-year budget agreement. This outcome is the result of months of political conflict and weeks of intense negotiations between the two parties, finally breaking a prolonged stalemate on the issue.
The US Congress must ensure that the approved deal reaches President Joe Biden's desk before Monday, June 5, when the federal government is expected to run out of money to cover its expenses.
President Biden expressed his satisfaction with the development shortly after the bill's approval in the House of Representatives. He characterized it as a critical step to prevent a devastating default and commended both parties for their involvement. He stressed the importance of a bipartisan compromise that can garner support from both sides and urged the Senate to pass the bill quickly so that he can sign it into law, enabling the US to continue building the strongest economy in the world.