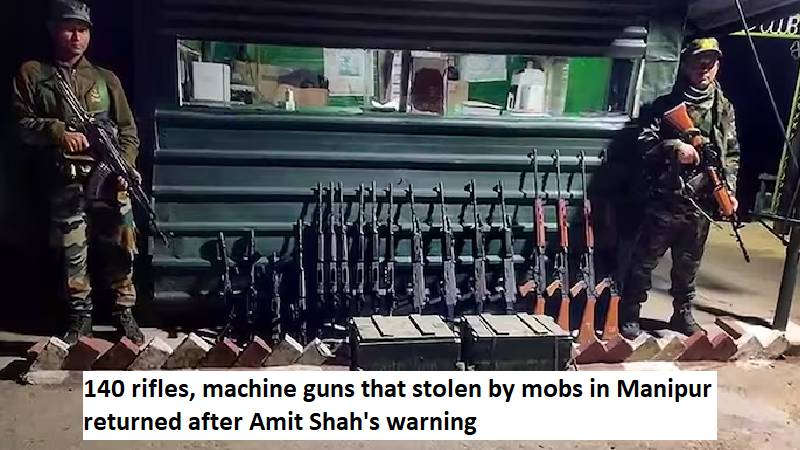 Over 140 firearms were turned over to police on Friday after Union Home Minister Amit Shah issued a warning to anyone keeping weapons illegally in the violent Manipur. Shah had issued a warning that a search operation for guns would shortly begin, and that anyone found in possession of illegal weapons would face harsh punishment.
After ethnic conflict erupted in Manipur in May, armouries were heavily robbed of weaponry. Amit Shah, the Union Home Minister, made a plea to the concerned people earlier on Thursday to turn in their weapons to the authorities.
Security personnel would soon conduct a search operation across the state, according to Shah, who also issued a warning to anyone found in possession of weapons against the law. The Self Loading Rifle (SLR), R 29, Carbine, AK-47, INSAS Rifle, and INSAS Light Machine Gun (LMG), among other weapons, were among the roughly 140 weapons that were turned in after his warning.
Amit Shah previously made a four-day trip to Manipur to assess the situation there. He unveiled a number of initiatives during his visit, including a committee chaired by a retired high court judge to oversee the inquiry of violent incidents in the northeastern state by a special CBI team.
In the ethnic violence that erupted in the northeastern state of Manipur on May 3 following a Tribal Solidarity March organised by the All Tribal Student Union Manipur (ATSUM) to oppose the Meiteis' demand for Scheduled Tribe (ST) status, at least 98 people have been killed and over 300 others have been injured.
Several people are now homeless as a result of the violence that has lasted for almost a month. 37,450 people are currently residing in 272 relief camps spread out over the state, according to sources.