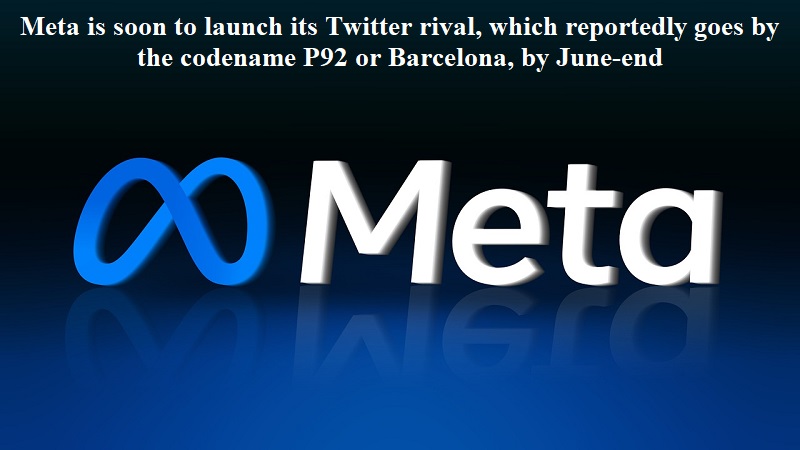 According to a leaked Substack newsletter, Meta is preparing to launch its Twitter competitor, codenamed P92 or Barcelona, by the end of June, as reported by The Verge. The new text-based platform is rumored to offer a character limit of 500, allowing users to include links, pictures, and videos in their posts, similar to Elon Musk's microblogging site.
The reports gained attention when Lia Haberman, a Social Media and Influencer Marketing professor at UCLA, shared some leaked documents. The Verge cited the leaked ICYMI Substack newsletter, which contained marketing slides and other details about the alleged app. However, the slides did not mention a specific name for the application and referred to it only as "Instagram's new text-based app for conversations."
Similar to Twitter and Meta's Barcelona application, this new rival platform will require users to log in with credentials like a username and password. However, there is an interesting twist: users can use their Instagram credentials to log in, seamlessly transferring their information, including followers, bio information, and verification status, to the new app.
The leaked slides indicate that the app's interface resembles a combination of Twitter and Instagram. They also mention that the text-based app will offer settings to control who can reply to and mention users' accounts.
In addition, the leaked slides reveal that the app plans to become compatible with other platforms like Mastodon in the future, allowing users from these platforms to search for, follow, and interact with profiles and content, subject to privacy settings.
Given Instagram's existing popularity, the introduction of this new text-based app is expected to attract even more users to the platform. It is seen as a potential competitor to platforms like Mastodon and Bluesky.
Meta, the parent company of Instagram, has not officially commented on the rumored launch of a Twitter-like app. However, in March, they hinted at exploring a decentralized social network for sharing text updates, stating that there is an opportunity for a separate space where creators and public figures can share timely updates about their interests.