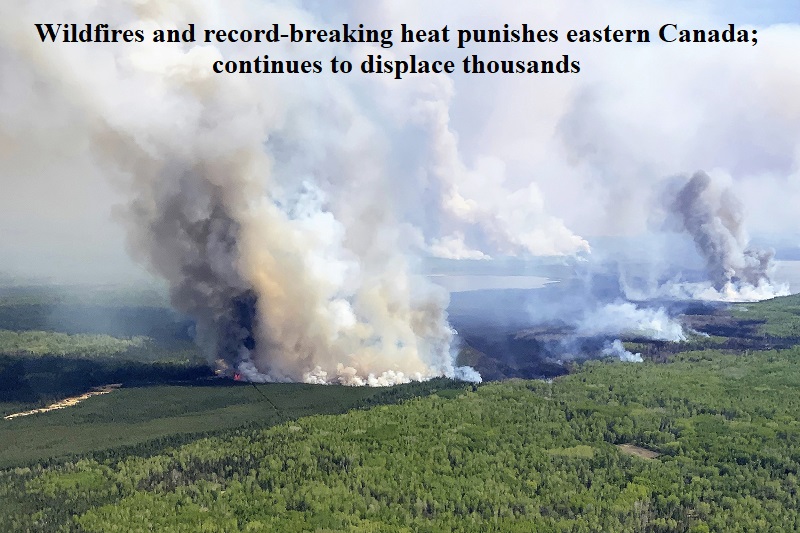 Eastern Canada is currently facing severe wildfires and a historic heatwave on Thursday, June 1. The wildfires have been devastating the Atlantic coast and other regions, with the situation being described as unprecedented. Over 210 fires were burning across the country, with 82 of them being out of control.
More than 2.7 million hectares of land have been scorched, surpassing the average of the last three decades, according to officials. The early occurrence of these conditions is causing deep concern among authorities, as stated by Emergency Preparedness Minister Bill Blair during a news conference in Ottawa.
In May, significant fires were observed in Alberta and Saskatchewan, but the focus of firefighting efforts shifted to Nova Scotia on the Atlantic coast in the past week. Wildfires in this region are typically rare. Natural Resources Minister Jonathan Wilkinson acknowledged that Canada is experiencing the impacts of climate change, including more frequent and extreme wildfires. He projected that the amount of forest burned by wildfires could double by 2050.
In Nova Scotia, 16 fires were burning, resulting in the destruction of 200 homes and the displacement of approximately 20,000 residents. The situation has caused tremendous trauma in the province, with Nova Scotia Premier Tim Houston expressing concern about the staggering numbers.
Efforts to combat the wildfires have involved the assistance of the Coast Guard, water bombers from neighboring provinces, additional resources from Ontario, and firefighters from the United States and South Africa en route to support the operation. Despite these efforts, the situation remains dangerous and volatile, according to local natural resources official David Steeves.
The suburbs of Halifax, the main city in Nova Scotia, were under threat from a large fire that forced the evacuation of over 16,000 people. However, reports indicate that the fire is now under control. Another fire near Lake Barrington has posed a challenge for fire crews, as it has burned over 20,000 hectares and is the largest fire ever recorded in the province. Earlier this week, over 2,000 residents were forced to evacuate at short notice due to the rapid spread of the blaze.
In addition to the wildfires, major Canadian cities such as Montreal, Toronto, and Ottawa experienced record-breaking temperatures exceeding 30 degrees Celsius. The soaring temperatures have prompted individuals like construction worker Line Blette in Montreal to drench themselves with water to stay cool. Concerns have also been raised about the need for more trees in cities to provide shade and cope with the drastic changes in weather.