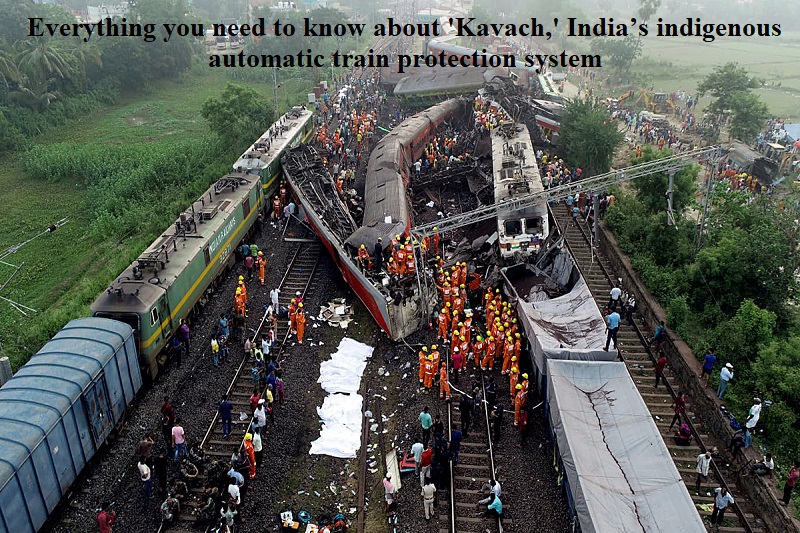 A train collision in Odisha, India, has resulted in one of the deadliest accidents in the country, claiming a significant number of lives. As of now, at least 261 people have been reported dead, and the death toll may rise further, with over 900 individuals injured. This tragic incident emphasizes the importance of implementing robust safety measures, enhancing infrastructure, and improving operational protocols to prevent train collisions and ensure the safety of passengers and railway personnel.
The Indian Railways and relevant authorities continually strive to enhance safety standards and adopt advanced technologies, such as automatic train protection systems, to prevent such accidents. In this regard, the Indian Railways has developed its own indigenous Automatic Train Protection (ATP) System called Kavach, which aims to enhance train safety.
Kavach is a cost-effective solution that has obtained Safety Integrity Level 4 (SIL-4) certification, ensuring a high level of safety with an extremely low probability of error (1 error in 10,000 years). As part of the Atmanirbhar Bharat initiative, the plan is to implement Kavach across a network spanning 2,000 kilometers by 2022-23. This expansion will not only enhance safety and capacity but also create opportunities for exporting this indigenous technology to other railways worldwide.
Kavach, developed by the Research Design and Standards Organisation (RDSO) in collaboration with three Indian vendors, has been adopted as the National ATP System for Indian Railways. It serves multiple purposes, assisting the Loco Pilot in avoiding Signal Passing At Danger (SPAD), overspeeding, and operating trains during challenging weather conditions like dense fog.
The key features of Kavach include the transmission of line-side signals to the train cab, continuous updates of the train's movement authority, automatic application of brakes when necessary, and the ability to sound the whistle at level crossing gates. The system also facilitates direct communication between locomotives to prevent collisions and includes an SOS feature to bring the train under control in case of accidents.
Trials of Kavach have been conducted on specific sections of the South Central Railway, and after successful trials, three vendors have been approved for further development orders. The implementation of Kavach is currently underway on the Manmad-Mudkhed-Dhone-Guntakal and Bidar-Parbhani sections, covering approximately 1,199 route kilometers. The expenditure incurred on the development of Kavach so far amounts to Rs 16.88 crore.
Train collision prevention systems, similar to Kavach, are implemented in various countries worldwide. Examples include the European Train Control System (ETCS) in Europe, Positive Train Control (PTC) in the United States, Train Protection and Warning System (TPWS) in the United Kingdom, Centralized Traffic Control (CTC) in North America, and Ansaldo's Advanced Train Control System (ATCS) used in multiple countries.
The train collision in Balasore, Odisha, involving two passenger trains and a goods train, has resulted in a tragic loss of at least 288 lives and injuries to approximately 900 individuals. This incident has caused immense grief and underscores the urgent need for improved safety measures and preventive actions in the railway system.