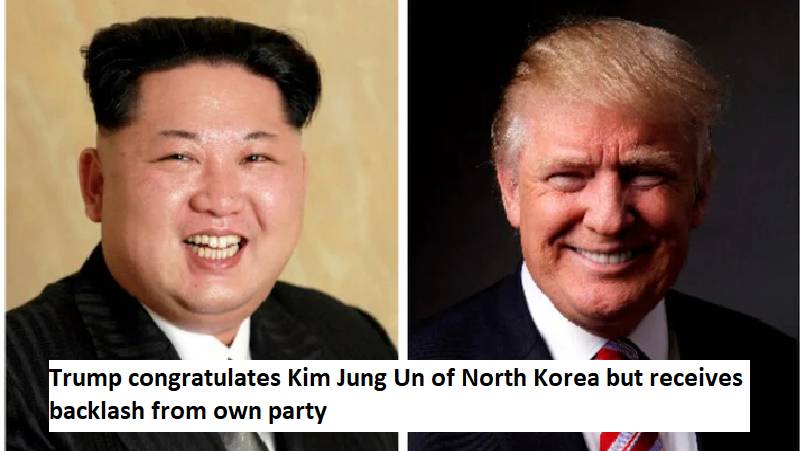 After congratulating North Korean leader Kim Jong Un on his nation's membership in the World Health Organization's executive board, former US President Donald Trump provoked debate.
While relaying the news of the admission, the former president misspelt the name of the leader of North Korea and wrote, 'Congratulations to Kim Jung Un!' Republican presidential candidates and state party officials immediately condemned the post.
Nikki Haley, a former UN representative who is running against Trump in 2024, wrote on Twitter, 'Kim Jong Un starves his own people. It's a total farce that North Korea has a leading role at the World Health Organization.'
Georgia Governor Brian Kemp responded to Trump's congratulations by saying, 'Taking our country back from Joe Biden does not start with congratulating North Korea's murderous dictator.'
The Florida Governor Ron DeSantis, one of Trump's GOP opponents for the presidency, maintained his criticism of the president-elect, referring to him as 'a murderous dictator,' according to The New York Post.
'Kim Jong Un is an enemy of America who threatens peace and freedom. The fact that Trump delusionally believes otherwise makes him a useful idiot for China and unfit to be president,' former GOP Maryland governor Larry Page also lashed out at Trump.
Trump and Kim had a well-known 'hot-and-cold relationship' while he was president for one term. The two leaders frequently insulted one other, with Trump calling Kim 'little Rocket Man' and Kim responding with terms like 'dotard' and 'frightened dog.'
Trump, though, started getting closer to and praising the 39-year-old despot after becoming the first sitting US president to visit the remote communist nation. Trump has a 'unique relationship and a special friendship' with Kim, in his own words.
This week, Dr. Jong Min Pak was chosen for a three-year term on the WHO executive board, making him the first representative of North Korea to hold such a position.
The executive director of UN Watch, Hillel Neuer, was quoted by The Independent as saying, 'What this means is that one of the world's most dreadful regimes is now a part of a group that sets and enforces the standards and norms for the global governance of health care.' It is a ridiculous incident for a significant UN institution that needs serious self-evaluation and reform, Neuer continued.
Australia, Barbados, Cameroon, Comoros, Lesotho, Qatar, Switzerland, Togo, and Ukraine are additional members of the executive board.