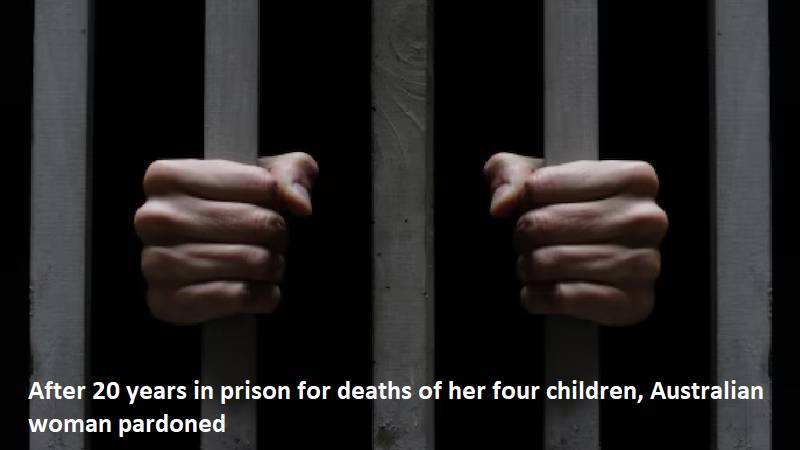 A lady who had served 20 years in prison for the deaths of her four children was released on Monday by the state of New South Wales following the conclusion of a court review that there was cause for reasonable doubt regarding the initial convictions.
In 2003, Kathleen Megan Folbigg was found guilty of killing three of her children and manslaughtering a fourth. Folbigg defended her innocence and said the children's deaths were due to natural causes.
A preliminary investigation in 2019 found that the facts supported Folbigg's guilt. However, a second investigation headed by the former chief judge Thomas Bathurst reexamined her convictions in 2022 after fresh information revealed that two of the kids may have had fatal genetic mutations.
Michael Daley, the state's attorney general for New South Wales, granted Folbigg's pardon on Monday following the summary of the Bathurst inquiry's findings that each conviction was reasonable in doubt.
'The result today is confirmation that our judicial system is capable of delivering justice, and demonstrates that the rule of law is an important underpinning of our democratic system,' said Daley.
'Given all that has happened over the last 20 years, it is impossible not to feel sympathy for Kathleen and Craig Folbigg.'
Daley claimed that while Folbigg would be free to go, her convictions would be unaffected by the unconditional pardon.
According to Bathurst's note to the attorney general, there was a chance that three of those children died for natural causes, two from the genetic mutation CALM2-G114R, and one from a neurogenic condition.
The Crown's case on the manslaughter of her fourth child was therefore compromised by these doubts, according to Bathurst. 'Further, I am unable to accept the proposition that the evidence establishes that Ms Folbigg was anything but a caring mother for her children,' he said.