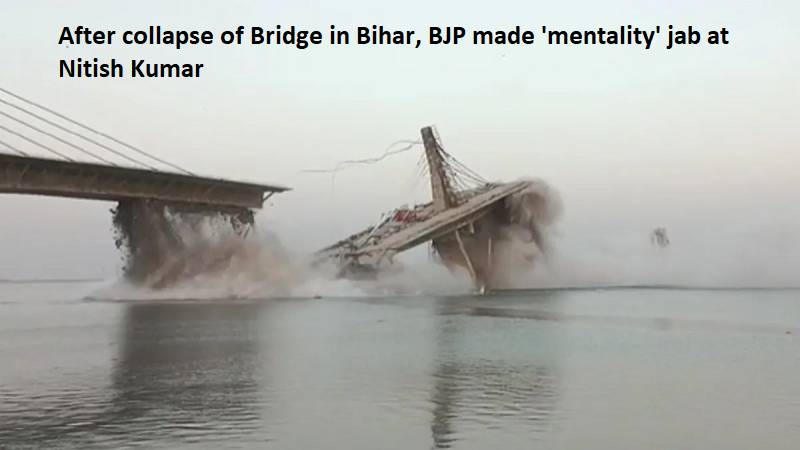 Vijay Kumar Sinha, the leader of the opposition in Bihar, claimed that the collapse of the Aguwani-Sultanganj bridge, which was still being built, in Bhagalpur was a result of the Chief Minister Nitish Kumar's mentality of political instability, which has led to administrative chaos and corruption in the state.
While speaking to ANI, Vijay Kumar Sinha said,'There is a tradition of seeking commission (bribe) in this government. It is a consequence of Bihar CM Nitish Kumar mentality of political instability that there's administrative anarchy and corruption. System is collapsing but they are talking about Opposition unity.'
He continued by saying that an immediate investigation into the situation was necessary. 'There needs to be accountabilty in this incident. Those involved in corruption in the government have fixed their commissions. Where is your zero tolerance on the corruption?' he said.
CM Nitish Kumar launched an investigation into the collapse of a bridge in Bhagalpur that was still being built and directed the officials to find those responsible for the disaster shortly after the bridge collapsed.
Lalit Narayan Mandal, a JDU MLA, responded to the bridge collapse incident by saying that it occurred before to the inauguration, which was scheduled to take place in late November or early December of this year.
'We were expecting that the inauguration of the bridge would happen by November-December later this year. But the way it collapsed is unfortunate. A probe must happen into the incident, there's some fault,' he said.
An Aguwani-Sultanganj bridge in Bhagalpur that was being built earlier today collapsed. Locals recorded the moment the bridge in the Ganga River fell on camera.
Last year, a bridge collapse incident of a similar nature also occurred. In Sahebpur Kamal in Bihar's Begusarai district, a section of a bridge constructed across the Burhi Gandak River broke and fell into the river.
In Sahebpur Kamal in the Begusarai district of Bihar, a piece of a bridge constructed across the Burhi Gandak River crumbled and fell into the river, however no casualties were reported.