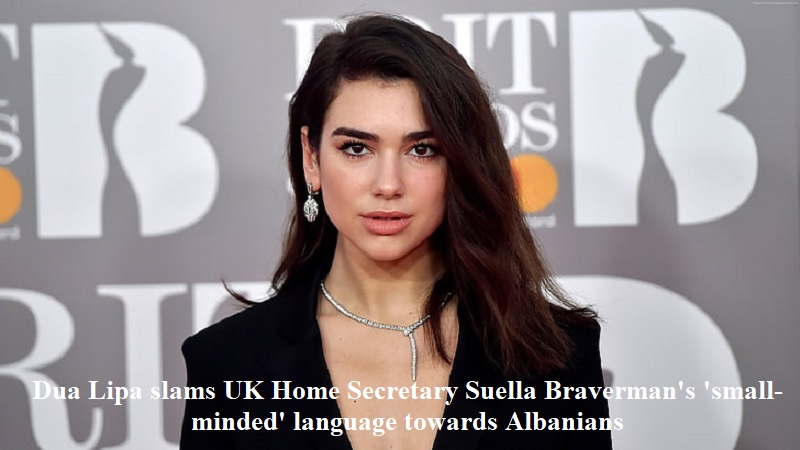 According to reports from Female First UK, the singer known for her hit song "Levitating" was born in London to parents of Kosovan-Albanian descent and criticized the "small-minded" remarks made by government officials, including Home Secretary Suella Braverman, who specifically targeted "Albanian criminals" in discussions about immigration last year.
Dua expressed her feelings to the Sunday Times, stating, "Of course it hurt. All those words thrown around about immigrants? I always felt London was an amalgamation of cultures. It is integral to the city. So when you hear the government talk about Albanians, for example, it hurts."
She described such comments as being myopic and lacking broad perspective, but acknowledged that many people share this mindset. She added, "No matter how we try and change the rhetoric, there will always be those who think, 'Immigrants are coming into the country and taking jobs.'"
Quoted by Female First UK, she further emphasized the hard work and contributions of immigrants who have come to the country, stating, "However, immigrants who have come here have earned their keep by working incredibly hard. There needs to be more empathy because people don't leave their country unless they have to out of necessity, out of fear for their family."
While Dua Lipa is not hesitant to speak out on political issues, she is cautious about aligning herself with specific politicians. She explained, "As much as I like being vocal about politics all over the world, I'd stay away from politicians." She has learned to carefully consider her associations and has come to realize that even individuals who may initially seem admirable can disappoint in the end.
In conclusion, Dua Lipa expressed her disappointment with the government's language regarding immigrants and stressed the importance of empathy and understanding. She prefers to focus on advocating for certain rights rather than aligning herself with politicians, as she has learned that individuals can ultimately let you down.