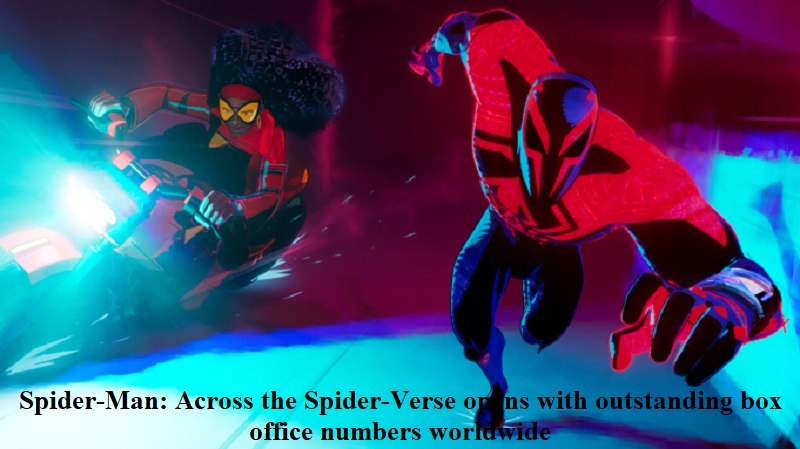 Spider-Man: Across the Spider-Verse had a phenomenal worldwide box office opening, surpassing expectations and receiving an enthusiastic response from audiences. The highly anticipated sequel debuted with a remarkable $120.5 million, making it the second biggest opening of the year, only behind The Super Mario Bros. Movie, which earned $146 million.
This movie is the sequel to the 2018 blockbuster Spider-Man: Into the Spider-Verse and has already surpassed the box office earnings of its predecessor. Compared to the $35.6 million domestic opening of Spider-Verse in 2018, the sequel has earned three times more.
The international market has also shown immense support for the film. According to Variety, it has garnered $88.1 million from 59 international territories, with China leading the way with $17.3 million. The total global earnings for Spider-Verse now stand at $208.6 million.
Directed by Joaquim Dos Santos, Kemp Powers, and Justin K. Thompson, the movie features a script by Phil Lord, Christopher Miller, and David Callaham. With a budget of $100 million, the film is surpassing expectations in terms of performance.
Shameik Moore reprises his role as Miles Morales, an Afro-Latino version of Spider-Man. The star-studded cast also includes Hailee Steinfeld, Jake Johnson, Issa Rae, Daniel Kaluuya, Jason Schwartzman, Brian Tyree Henry, Luna Lauren Vélez, Greta Lee, Rachel Dratch, Jorma Taccone, Shea Whigham, and Oscar Isaac.
The official synopsis of the film describes Miles Morales teaming up with other Spider-People from different dimensions to protect the multiverse. However, conflicts arise when they face a new threat, leading Miles to redefine his understanding of heroism to save his loved ones.