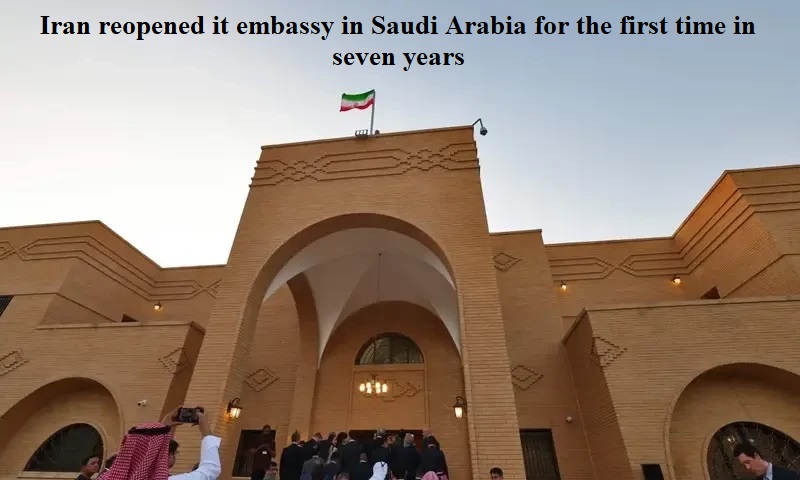 On Tuesday (June 6), Iran reopened its embassy in Saudi Arabia after a seven-year closure, signifying a Chinese-mediated reconciliation between two formerly adversarial powers in the West Asian region. This rapprochement is expected to have a significant impact on the dynamics in the area. The Iranian embassy has resumed operations in its previous location in Riyadh's diplomatic quarter, close to the Syrian embassy, which is also anticipated to reopen following Saudi efforts to engage with Damascus. Iranian Deputy Foreign Minister Alireza Bigdeli described the day as an important milestone in the relations between Iran and Saudi Arabia during a flag-raising ceremony, stating that cooperation between the countries is entering a new era.
In March of this year, Iran and Saudi Arabia agreed to reestablish their respective embassies and work towards restoring ties. In 2016, Saudi Arabia had severed diplomatic relations with Iran after protests erupted in response to the execution of Shiite cleric Nimr al-Nimr.
Saudi Arabia has yet to confirm when it will open its embassy in Tehran and decide on the ambassador. However, a Saudi delegation visited the Iranian capital in April.
The reopening of the Iranian embassy coincided with the visit of US Secretary of State Antony Blinken to Saudi Arabia. Blinken's visit to the kingdom comes as Saudi Arabia has been forging closer ties with countries that are considered rivals to the United States.
The embassy ceremony was attended by Ali Al Youssef, the director of consular affairs at the Saudi foreign ministry. The mission is led by Alireza Enayati, Iran's former ambassador to Kuwait.
After years of discord, the two regional powers signed an unexpected reconciliation agreement in China on March 10. Subsequently, Saudi Arabia has restored ties with Syria, an ally of Iran, and intensified efforts for peace in Yemen, where it has led a military coalition against Iran-backed Huthi forces.
Iran and Saudi Arabia have been supporting opposing factions in various conflict zones across the Middle East for years.
During his visit, Blinken is expected to meet with Saudi Arabia's de facto leader Crown Prince Mohammed bin Salman in Jeddah, and he will also attend a Gulf Cooperation Council meeting in Riyadh on Wednesday, according to a US official.