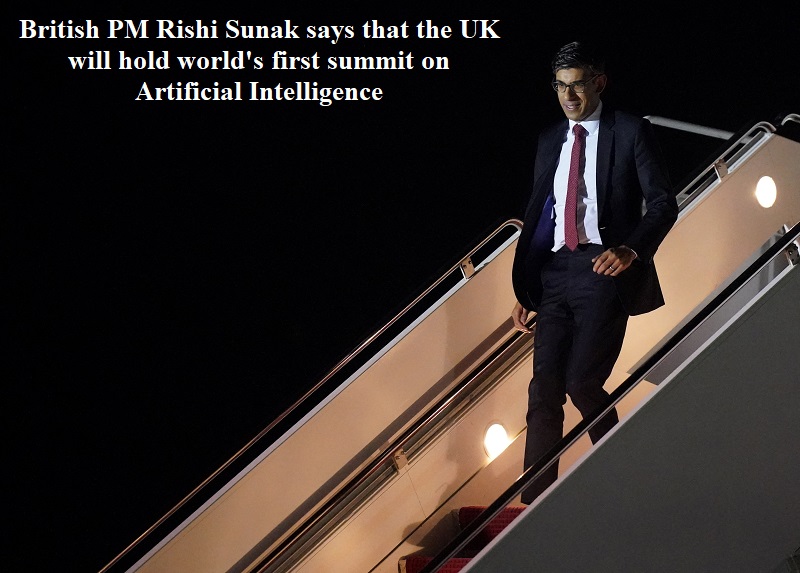 British Prime Minister Rishi Sunak announced on Wednesday that the UK will host the world's first summit on Artificial Intelligence (AI). Currently in Washington for a meeting with US President Joe Biden on Thursday, Sunak is expected to express unwavering support for Ukraine during his discussions. The AI summit is scheduled to take place in the second half of the year.
According to Sunak, AI has immense potential to positively transform our lives, but it must be developed and utilized in a safe and secure manner. He emphasized the historical pattern of inventing groundbreaking technologies and harnessing them for the benefit of humanity, stating that it is crucial to do so once again.
During a recent summit in Japan, the Group of Seven called for action on AI. The US also engaged in talks with the European Union last week regarding an AI code of conduct. Sunak is aiming to position London as the hub for a future global AI, highlighting the UK's capability to lead in this field among democratic nations outside of the US. He expressed confidence in the UK's ability to establish effective regulations that protect citizens.
Sunak's two-day visit to the US began with a wreath-laying ceremony at the Tomb of the Unknown Soldier in Arlington National Cemetery, accompanied by a 19-gun salute. His handwritten message on the wreath paid tribute to those who sacrificed their lives for the cause of freedom.
The ongoing situation in the Ukraine war is expected to dominate the discussions between Biden and Sunak. The meeting coincides with Ukraine and Russia blaming each other for the destruction of the Kakhovka dam, leading to significant flooding. While neither the US nor the UK have officially attributed responsibility for the dam breach, Sunak stated during a press briefing on his plane from London that if it was intentional, it would represent a major attack on civilian infrastructure and demonstrate the depths of Russian aggression.
In an interview with ITV News, Sunak condemned Russia's deliberate targeting of civilian infrastructure, describing it as wrong, barbaric, and appalling. He reaffirmed the UK's strong support for Ukraine and its commitment to continue providing assistance in this challenging situation.