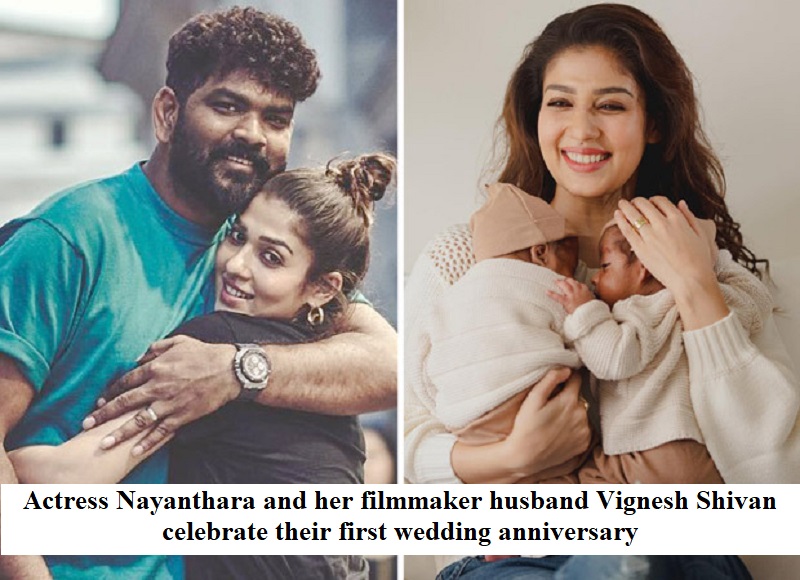 Indian actress Nayanthara and filmmaker Vignesh Shivan are commemorating their first wedding anniversary. Vignesh took to Instagram to share pictures of his wife with their twin sons and wrote a heartfelt note.
The photos capture Nayanthara posing for the camera while holding the two babies in her arms. One of the pictures showcases one of the infants dressed in a red Santa romper.
Accompanying the photos, Vignesh penned a note reflecting on their eventful year, marked by the arrival of their twins through surrogacy. He expressed, "En uyiroda Aadharam neengaldhaneyyy (the proof of my life is you) 1 year filled with a lotta moments! Lotta Ups and downs. Unexpected setbacks! Testing times! But coming home to see a blessed family with immense love and affection reinstates soo much confidence and gives all the energy to keep running towards all the dreams and goals already manifested! Holding everything together, together with my — My Uyirs and Ulagams. The strength given by the family makes all the difference! Blessed with the best of people, striving to give them a good life is all the motivation that's needed for hustlers like me."
Vignesh expressed gratitude to the photographer and requested those with negative comments to refrain from sharing them. He wrote, "Thank you for the wonderful clicks @josephradhik @storiesbyjosephradhik. PS: Negative comment addicts kindly excuse, may be you should try to ignore positivity."
Following the photo post, fans showered love on the couple and conveyed their wishes in the comment section. Fans adored the pictures and congratulated the couple, expressing sentiments such as "Very happy to see this post. Happy anniversary both of you," "How sweet," and "Look at them, the way one is holding the other's shoulder." A comment also read, "Absolutely gorgeous, love you guys."
On Thursday, Vignesh had shared throwback pictures of Nayanthara and himself, along with a note, to celebrate their wedding anniversary. He wrote, "Got married to you yesterday! Suddenly my friends are texting me saying 'Happy First year marriage anniversary'! Theory of relativity is true! Love you Thangamey (gold)! Jus starting our life with all the love and blessings! Long way to go! Lots to accomplish together! With all the good will of all the good people in our lives and the abundant blessings of God Almighty, bringing in the second year of our marriage with the greatest blessings of our lives. Our babies Uyir & Ulagam."
Nayanthara and Vignesh got married in a private ceremony in Mahabalipuram, Tamil Nadu, last year. Nayanthara's Jawan co-star Shah Rukh Khan and filmmaker Atlee had attended the wedding. The couple welcomed twin sons via surrogacy in October.