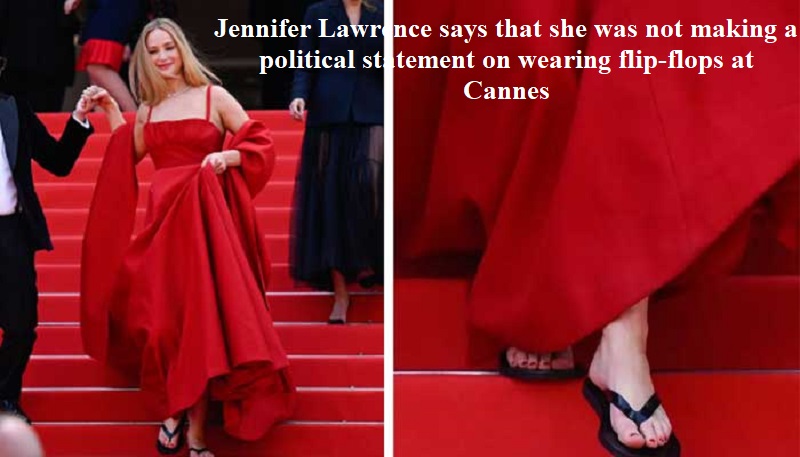 Jennifer Lawrence made a bold fashion statement at Cannes by donning a vibrant tangerine red dress and flip-flops. Despite the unconventional choice of footwear, she managed to exude an effortlessly chic and casual look. Her red Christian Dior gown illuminated the red carpet, but her decision to opt for flip-flops left people curious about her choice to forgo heels.
Jennifer Lawrence refuted speculations that her choice of footwear was intended to make a political statement. In an interview with Entertainment Tonight, the No Hard Feelings star clarified, "I was not making a political statement, not that I wouldn't. I had no idea until it came out that there was a whole controversy with people wearing flats, or like, walking down the red carpet barefoot. I had no clue. My shoes were a size too big."
Initially, Jennifer Lawrence had worn a pair of heels. However, she returned to the red carpet to take pictures with her production team for Excellent Cadaver. She explained, "So, we had to take an Excellent Cadaver picture, and I knew I would eat s–t if I went down in shoes that were a size too big. I put on the flip-flops, and then everybody's like, 'What a statement! Wow.'" She further clarified, "I'm all for making a statement. I just would want it to be on purpose."
It appears that Jennifer Lawrence's decision to wear flip-flops was purely practical and not intended as a deliberate statement. The need to capture a group photo led her to switch footwear to avoid any mishaps while walking in shoes that were too large for her. Despite the unintentional attention, she expressed openness to making purposeful statements through her fashion choices in the future.