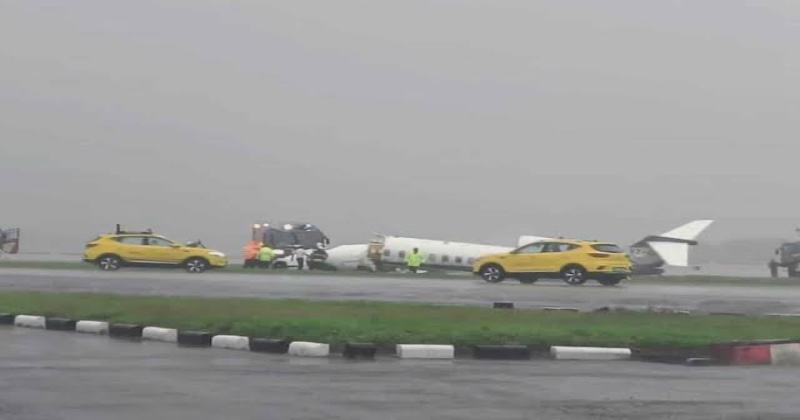 Neil Diwan, the co-pilot involved in the private jet accident at Mumbai airport, has sustained a spinal injury and was transferred to another hospital for surgery, according to Dr. Deepak Namjoshi, the director of Criticare Asia hospital. Seven other individuals who were admitted to Criticare Asia's Andheri East hospital following the accident are reported to be in stable condition and are under observation.
The incident occurred when a private jet, the Learjet 45 aircraft VT-DBL owned by VSR Ventures, skidded off the runway during landing in heavy rains. All eight individuals on board the aircraft suffered injuries and were subsequently hospitalized.
Neil Diwan, in his early twenties, suffered a spinal fracture and paraplegia, a condition where both legs have no sensation. He expressed a preference for surgery by a specific doctor, leading to his transfer to Kokilaben Dhirubhai Ambani Hospital. The captain of the flight, Sunil Kanjarbhat (46), sustained multiple abrasions with chest wall and spine trauma, including a wedge compression to the L1 vertebra. Another passenger, Dhruv Kotak (40), experienced injuries to his right arm, a small abrasion on the head, and a suspected tear in his biceps muscle. A Danish citizen, Lars Henrik Ostergaard Sorensen (58), sustained injuries to the chest wall and upper back, along with mild bilateral pleural hemorrhage and rib fractures. He is currently stable and undergoing conservative management.
The accident has raised concerns about aviation safety and the impact of adverse weather conditions on flight operations at Mumbai airport.