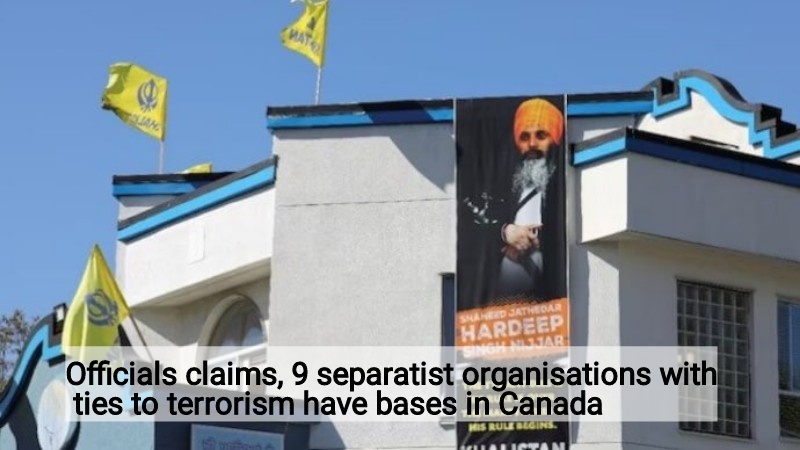 At least nine separatist organisations that support terrorism have bases in Canada, and despite repeated requests for their deportation, Ottawa has not acted against those responsible for heinous crimes like the murder of well-known Punjabi singer Sidhu Moosewala, according to officials in New Delhi on Tuesday.
They said that pro-Khalistani organisations including the World Sikh Organisation (WSO), Khalistan Tiger Force (KTF), Sikhs for Justice (SFJ), and Babbar Khalsa International (BKI), which serve Pakistan's interests, have purportedly been operating freely from Canadian territory.
They claimed that the accusations made against India by the Canadian government and lawmakers about the killing of Khalistani terrorist and Canadian citizen Hardeep Singh Nijjar are untrue and founded on unsupported assumptions.
In numerous diplomatic and security discussions, Indian authorities have brought up the matter of deporting wanted terrorists and gangsters; however, the Canadian authorities have remained uncommitted and brazen in their support of these terror elements, the sources added.
At least nine separatist organisations supporting terror organisations have established strongholds in Canada, they added, adding that many dossiers have been handed over to the Canadian side but India's deportation demands have gone unanswered.
According to the officials, eight terrorists and as many gangsters who have been working with Pakistan's ISI have found refuge in Canada.
They said that the Canadian authorities have been awaiting deportation requests for these individuals for years, including Gurwant Singh, who participated in terrorist operations in the early 1990s. He is also the subject of an Interpol Red Corner Notice.
The sources claimed that despite requests from Indian authorities to deport Gurpreet Singh, who is also linked to terrorism cases, and the provision of his Canadian address, nothing was done.
They claimed the Canadian government had received a request for the deportation of notorious gang members, such as Arshdeep Singh alias Arsh Dalla, who is wanted in 16 criminal cases, and Satinderjit Singh Brar alias Goldy Brar, who claimed responsibility for the murder of well-known Punjabi singer Sidhu Moosewala, along with evidence against them.
They claimed that the separatist organisation was publicly threatening assassinations, supporting separatist causes, and committing targeted killings in India.
They noted that the high-profile murder of well-known musician Sidhu Moosewala by a mobster operating out of Canada who had ties to pro-Khalistan forces 'is a classic example of this.'
According to them, Bhagat Singh Brar, who is the terrorist Lakhbeer Singh Rhode's son and a member of the Dashmesh regiment of Khalistan, Moninder Singh Bual, and Satinder Pal Singh Gill are other wanted terrorists with Canadian addresses.