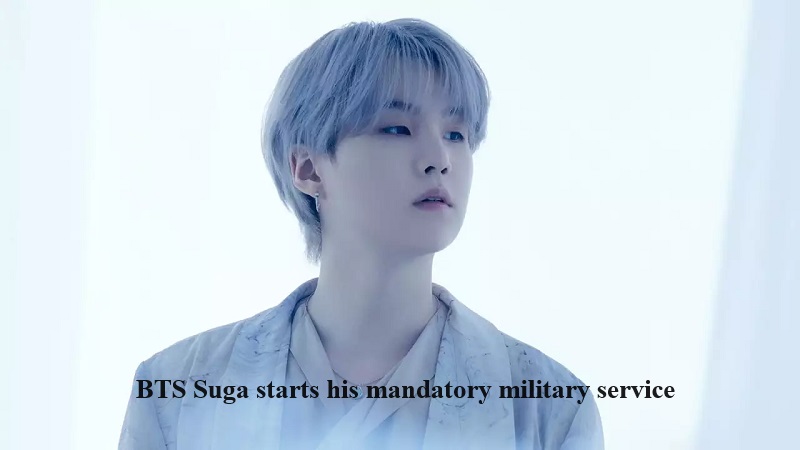 Suga, whose real name is Min Yoongi and a member of the popular K-pop group BTS, has commenced his mandatory military service, becoming the third member of the band to fulfill this requirement. On September 22, Suga began his service, and he bid farewell to his millions of fans on the social media platform Weverse.
In his message, he expressed his gratitude to his fans, saying, "I was able to come this far thanks to you. And the time has come. I will faithfully complete my duty and come back." He also wished everyone to stay healthy and mentioned that he would see them again in 2025.
Reports suggest that Suga has been deemed unfit for regular combat duty due to a shoulder injury and will serve as a social service agent instead.
BTS's agency, Big Hit Entertainment, released a statement on September 18, announcing Suga's enlistment. They mentioned that there would be no official events on the day he starts his service and asked fans not to visit him during this period. They also urged fans not to bring gifts and cautioned against unauthorized use of the artist's intellectual property for commercial purposes.
Jin, the oldest member of BTS, began his mandatory military service in December of the previous year, serving at a front-line South Korean boot camp for 18 months. J-Hope also enlisted in the army in April this year. The remaining members, RM, Jimin, V, and Jungkook, will follow suit in the coming months.
South Korean law mandates that all able-bodied men in the country between the ages of 18 and 28 fulfill their military service obligations.
Suga's farewell message on Weverse evoked emotional responses from the dedicated BTS fanbase known as ARMY, highlighting the strong connection between the group and its fans.