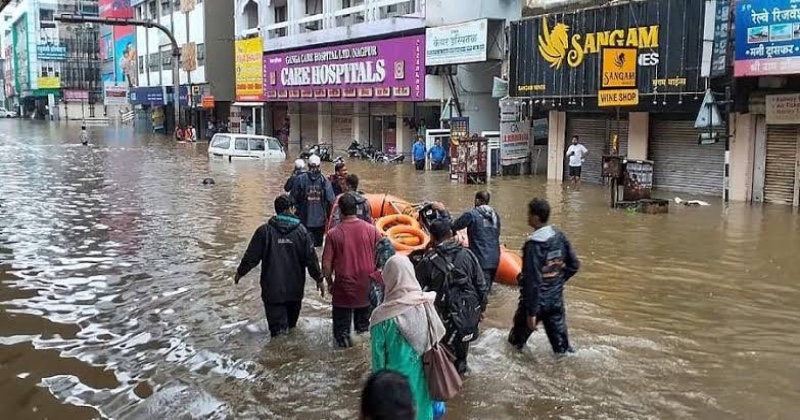 Intense rainfall inundates Nagpur, leading to the rescue of 180 people, including 40 students with hearing and speech impairments, according to Maharashtra Deputy Chief Minister Devendra Fadnavis. The National Disaster Response Force (NDRF) and State Disaster Response Force (SDRF) are actively involved in these rescue operations. Furthermore, two Army units have been dispatched to the Ambazari area, where a lake overflowed, adding to the crisis brought on by torrential rains since Friday night. Nagpur airport recorded 106 mm of rainfall by 5:30 a.m., and the city experienced severe waterlogging, causing road closures and impacting residential areas. To ensure safety, schools and colleges have been closed by the administration.
Devendra Fadnavis, an MLA from Nagpur, has been diligently monitoring the rainfall situation and the increasing water levels in the city. Due to overflowing Ambazari Lake, low-lying areas were the worst affected. In response, Fadnavis instructed key officials, such as the Nagpur collector, municipal commissioner, and police commissioner, to swiftly mobilize rescue teams for those stranded by the flooding. He later reported that 140 citizens were rescued by two NDRF and two SDRF units, divided into seven groups. Additionally, 40 students with hearing and speech impairments were successfully rescued from a school, with support from the fire department. Fadnavis urged the public to avoid spreading or believing in any rumors.
The India Meteorological Department's Nagpur center issued forecasts for Nagpur, Bhandara, and Gondia districts, anticipating continued severe to moderate thunderstorms with lightning at isolated locations. These areas also face the possibility of intense rainfall at isolated sites. Wardha, along with parts of Chandrapur, Bhandara, and Gondia districts, is likely to experience light to moderate rainfall. Isolated places in Amravati, Yavatmal, and Gadchiroli may also see light rainfall.