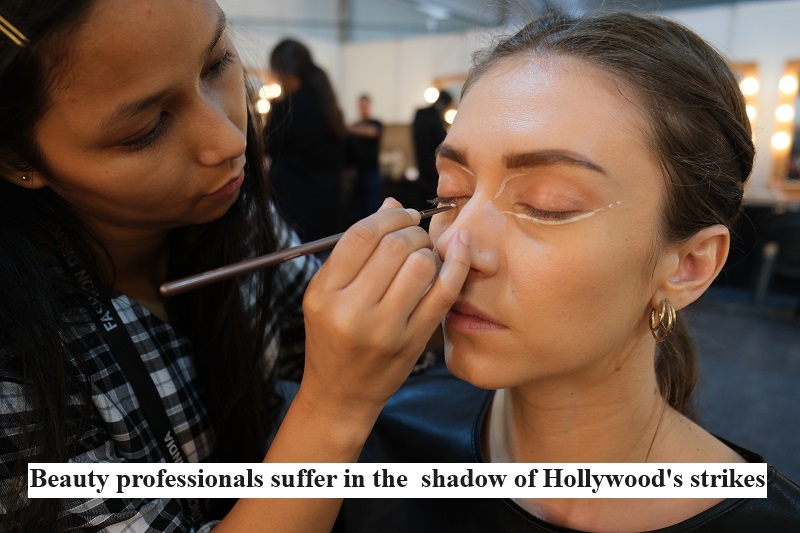 The ongoing strike by American screenwriters and actors is having a profound impact on the professionals working behind the scenes, from hairdressers to makeup artists, who rely on the entertainment industry for their livelihoods.
Matthew Monzon, a veteran celebrity hairdresser in New York, has been styling stars like Julia Louis-Dreyfus, Brooke Shields, Keri Russell, and Anna Kendrick since 1997. However, with the strikes disrupting the industry, he's struggling financially, stating that his savings are dwindling, although he supports the actors' and writers' demands for fair pay and AI usage restrictions.
The strikes have sent shockwaves throughout the entire entertainment ecosystem, affecting everyone from costume designers to makeup artists, manicurists, stylists, and hairdressers, all of whom depend on a bustling Hollywood schedule.
Rebecca Restrepo, a makeup artist who used to shuttle between TV studios and hotels, has seen her work dry up since July. She mentioned that even personal clients who require makeup sporadically can't compensate for the loss of regular work. The pandemic had already caused a year-and-a-half hiatus, and the strikes have further exacerbated the situation.
Most beauty professionals work independently through agencies, and they describe their work as an art that adapts to various circumstances, from glamorous premieres to casual morning talk shows. However, they also face growing competition, challenging working conditions, and uncertainty about their profession's future due to Instagram filters and the perception that everyone can be a makeup artist.
Matin Maulawizada, a makeup artist with 26 years of experience, has worked with stars like Angelina Jolie and Claire Danes. He laments that pay rates have significantly decreased compared to the era before streaming platforms. At 59, he hopes to join the Make-Up Artists & Hair Stylists Guild to benefit from negotiated standards with production studios or Broadway theaters. He has also initiated the "beauty4beautyproject" on Instagram to support fellow professionals affected by the strikes.
Marco Santini, a hairdresser for Jessica Chastain, Lucy Liu, and Uma Thurman, is skeptical about the future of his profession due to the advancement of artificial intelligence. He believes that AI avatars could eventually eliminate the need for human hairdressers.
In summary, the strikes in the entertainment industry are not only affecting actors and writers but also the behind-the-scenes professionals who play crucial roles in making stars look their best. Many of them are facing financial challenges and an uncertain future in an increasingly competitive field.