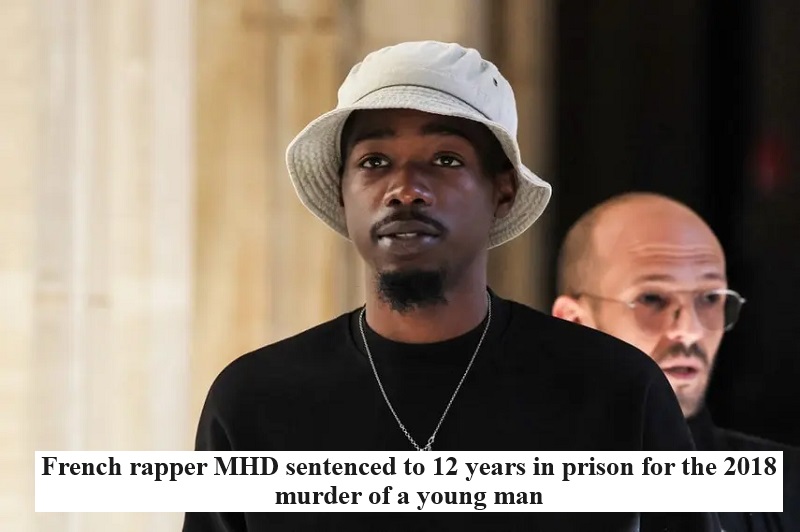 French rapper MHD has been sentenced to 12 years in prison for the murder of a young man in Paris in 2018, who was struck by a car and then attacked by a group before being stabbed. Five of MHD's co-defendants were also sentenced, receiving jail terms ranging from 10 to 18 years, related to what prosecutors described as a fight between rival gangs. Three others were acquitted.
MHD, known as the pioneer of afro-trap, a blend of hip-hop and African traditions, gained fame after becoming a viral sensation in 2015. His real name is Mohamed Sylla, and he was charged with homicide in January 2019, leading to his imprisonment. He was released after a year and a half in custody, during which he released a new album.
When the verdict was delivered, several women in the courtroom broke into tears, and MHD consoled one of them while maintaining his composure. Those convicted, all of whom pleaded not guilty, have 10 days to appeal.
During his final statement to the court before it deliberated for three weeks, he proclaimed his innocence, stating, "From the beginning, I have maintained my innocence in this case, and I will continue to maintain my innocence."
The prosecutor had requested an 18-year prison sentence for the rapper, acquittals for two of the accused, and jail sentences ranging from 13 to 20 years for the others.
The murder occurred on July 5, 2018, when 23-year-old Loic K was hit by a black Mercedes, beaten, and stabbed by approximately a dozen people in a rough neighborhood in Paris's 10th arrondissement. Although MHD denied being at the scene, a local resident filmed the incident from his window, and the Mercedes was quickly traced back to the rapper. Other witnesses identified him based on his haircut or a Puma sweatshirt he was wearing, as he was a brand ambassador for the company.
The car was discovered abandoned and burnt in a parking lot a day after the murder. Juliette Chapelle, the lawyer for the victim's family, said, "A judicial truth emerged despite the law of silence."
The murder took place in the Cite des Chaufourniers, a low-income housing estate that MHD continued to visit despite his fame. The football enthusiast, born in France to Guinean and Senegalese parents, is best known for his song "Afro Trap Part 3 (Champions League)," which praises the Paris Saint-Germain football club. He gained recognition internationally and received admiration from global stars like Drake and Madonna.