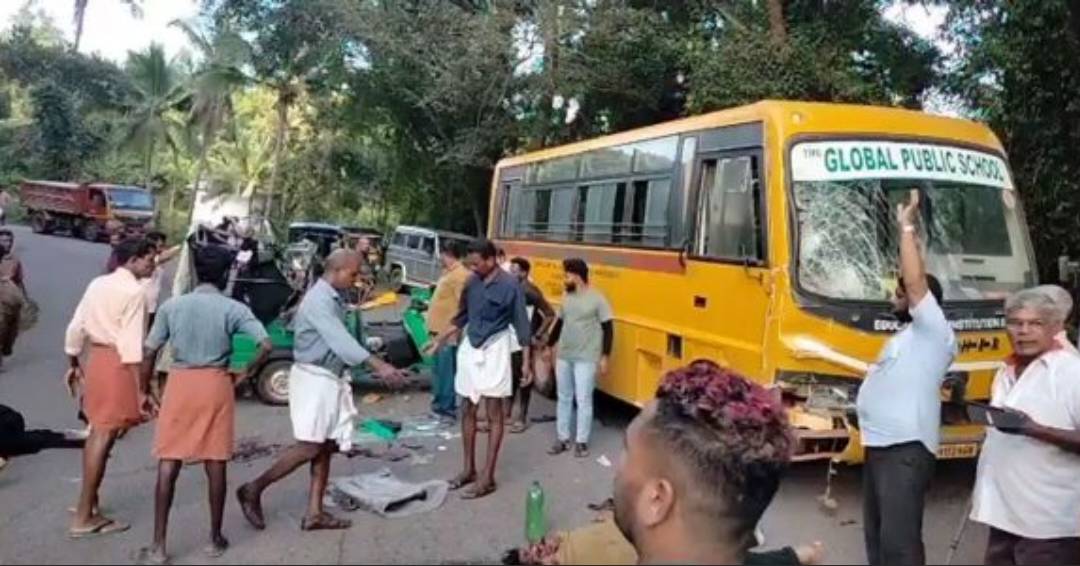 In a tragic incident that unfolded on a Monday evening in Kasaragod's Badiadka grama panchayat, a head-on collision claimed the lives of four female passengers and the auto-rickshaw driver. The victims were identified as Umaliuma (55), Beefathima (50), Nabeesa (49), Beefathima (72), and auto driver A H Abdul Rauf (64). The driver of the school bus involved has been charged with culpable homicide not amounting to murder.
These women were residents of Mogar in Mogral Puthur grama panchayat, and the accident occurred 25 km away from their village in Pallathadka, Badiadka grama panchayat. According to Mahin Kelot, an IUML leader from Badiadka, they appeared to have taken the wrong route, possibly due to losing their way.
The collision transpired on a road under construction, lacking proper signage and markings. The bus belonged to Global Public School and was returning after dropping off students. Abdul Hameed, a Badiadka panchayat member, was one of the first to arrive at the accident site and called for multiple ambulances due to the severity of the situation.
Upon reaching the scene, Hameed found the auto-rickshaw mangled, with three women on the road and the auto driver Rauf suffering severe injuries, including a severed arm. Unfortunately, all the victims were pronounced dead upon inspection.
The surviving family members of the deceased were identified, including husbands, wives, and children, highlighting the profound impact of this tragedy on their loved ones.
Saju Francis, the Regional Transport Officer (Enforcement), suggested that a design flaw in the road and human error likely contributed to the accident. He noted that the auto-rickshaw, carrying five passengers, couldn't have been speeding while the school bus appeared to be descending a slope, possibly hindering the driver's view. Moreover, the absence of road signage and safety markings, combined with both vehicles being in the middle of the road, raised concerns about road safety and driver attentiveness.
This tragic incident underscores the importance of road safety measures and the need for proper road infrastructure to prevent such accidents in the future.