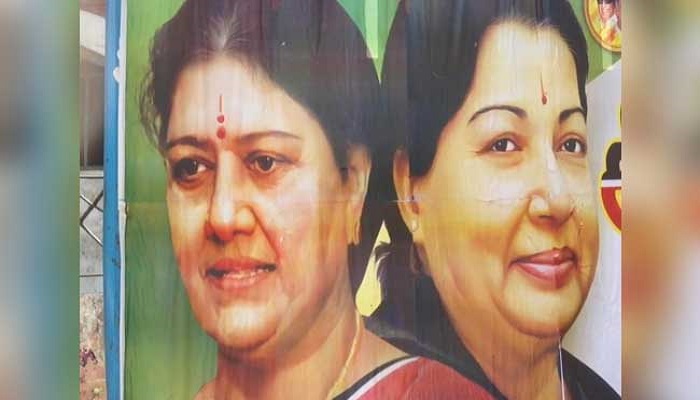 TTV Dinakaran nephew and deputy of AIADMK chief VK Sasikala was arrested yesterday night at Delhi .
As soon as Dinakaran was arrested, Sasikala's posters were removed from th party's main office.
Mr Dinakaran is accused of making an attempt to bribe Election Commission officers to allot his faction of the AIADMK the celebration's "two-leaf" image, frozen after a dispute with a rival faction led by former Chief Minister O Panneerselvam or OPS. The 53-year-old was appointed the celebration's quantity two by Ms Sasikala earlier than she went to jail for corruption.
The arrest has bolstered demands in Chennai o sack Dinakaran from the party. The faction led by Ms Sasikala and Mr Dinakaran has decided that both will be evicted from their positions to facilitate a merger with the OPS group.
They removed the poster from the pary office on the demand of OPS's group.
When J Jayalalithaa died as Chief Minister of Tamil Nadu, her party promoted Ms Sasikala, her live-in aide, as its chief. O Panneerselvam, who was a regular stand-in for Ms Jayalalithaa while she was alive, was made Chief Minister. Mr Panneerselvam revolted when Ms Sasikala asked him to step down so she could become Chief Minister. A twist in the plot was provided by the Supreme Court which in February sentenced her to jail for four years for corruption.
Mr Dinakaran was questioned for four straight days before his arrest, on allegations that he had paid a middleman a large amount of cash to be handed over to Election Commission officials.
The police say Mr Dinakaran confessed to meeting the middleman, Sukesh Chandrasekar, who was arrested from a hotel in Delhi with around Rs. 1.3 crore in cash. However, the AIADMK leader claimed he thought Mr Chandrasekar was a high court judge when he met him. He has also denied paying him any money.
Mr Chandrasekar, who was arrested on April 16, reportedly told the police he was Mr Dinakaran's "middleman" and was asked to hand over the cash to Election Commission officials.
A court had earlier on Tuesday asked the police why it has not taken any action against Mr Dinakaran over bribery allegations.