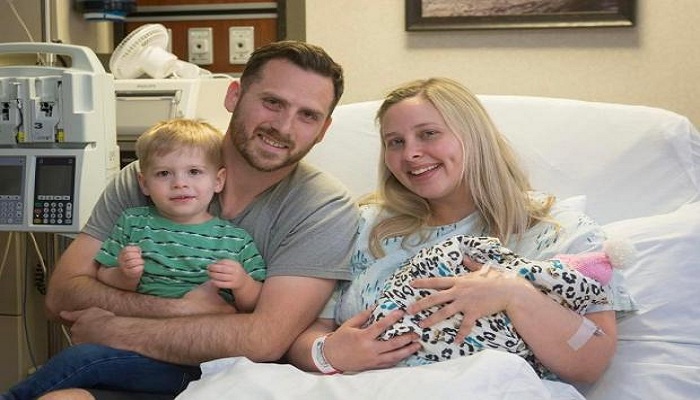 Keri Young and her husband, Royce, were anxiously awaiting an ultrasound photo of their unborn child when the doctor walked into the room with a serious look on her face.
They tried to prepare themselves, but what the doctor told them was something no parent can truly prepare for. The doctor explained their baby didn't have a brain.
The couple from Oklahoma City instantly broke into tears, their bodies shaking. But then, Royce recalled, Keri looked up at the doctor and calmly asked, "If I carry her full term, can we donate her organs?"
"Oh honey, that's so brave of you to say," the doctor responded as she rubbed Keri's shoulder.
In the eight years the couple has been together, Royce has never seen his wife so strong. He was in awe at that moment, and last week, as he stared at his sleeping pregnant wife's big belly with their daughter kicking inside, he decided to write about it — in a Facebook post that has been shared by more than 12,000 people.
"In literally the worst moment of her life, finding out her baby was going to die, it took her less than a minute to think of someone else and how her selflessness could help," Royce said. "It's one of the most powerful things I've ever experienced."
Together, the couple made the decision to carry the baby, who would be named Eva, to full term.
"First and foremost was to donate her organs," Royce said. "It was just a practical endgame that in our minds, before we came to the realization Eva is alive and our daughter deserves to meet her mama and daddy, gave us a purpose to continue on."
Twenty-four hours after they were given the devastating news, the couple made an appointment with LifeShare of Oklahoma and a doctor at Baptist Medical Center to discuss the possibility of donating the baby's organs. Doctors said the child's kidneys, heart valves, liver and even possibly her pancreas would be eligible for donation and the family could also donate the baby's lungs to research.
Though it was difficult to discuss, the pair knew it was something they had to do.
"We're not hoping for a miracle. We know she will not live," Keri wrote in a Facebook post. "But someone else is desperately hoping for a miracle. Their kidneys are failing them. Their liver has betrayed them. They deserve life, and they're probably praying for it. Eva can be their answer to it."
Her husband agreed: "There's another family out there hurting and hoping for a miracle for their baby, knowing full well someone else's baby will need to die first. Eva can be that miracle."
On April 18, a Facebook post from Royce said the couple had said hello and goodbye to little Eva Grace Young.