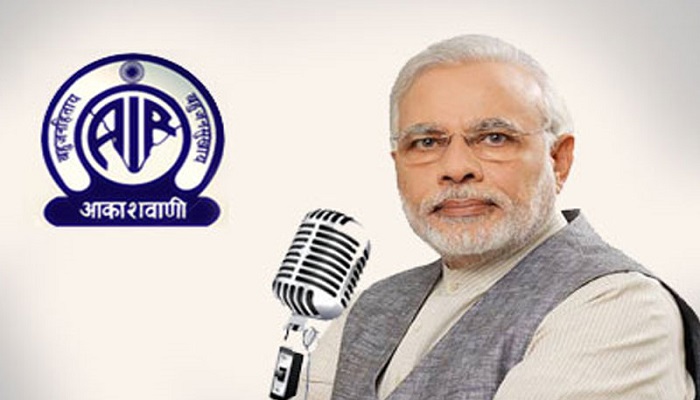 Prime Minister Narendra Modi addressed the nation through his monthly radio programme, entitled 'Mann Ki Baat' today around 11 am. The 31st edition of the radio programme is his first after the BJP received a thumping majority in Uttar Pradesh and Uttarakhand and managed to form coalition governments in Goa and Manipur.
Modi today coined a new acronym, "EPI" – "Every Person is Important" – which he said will be another signpost of "new India", a concept he's been pushing for a while now, along with "digital India".
The PM was referring to his government's recent ban of red beacons on the cars of so-called VIPs, or 'very important people'.
"VIP culture has been the bane of India. Experience taught me that the red beacon was put on vehicles, but it also got into people's heads and became transformed into VIP culture. Now, red beacons in people's heads also need to go. New India's concept is that instead of a VIP let's have EPI – Every Person is Important. All 125 crore Indians are important. If we all get together (as EIPs) we will have the power to fulfill the most audacious dreams," said Modi.
Modi used the EIP concept to touch upon another of his favourite projects, the Swachh Bharat Abhiyaan, or 'Clean India'. He talked about a citizen telling him how "happy" she was with the ban on red beacons.
"Swachh Bharat is cleaning the roads of VIPs too. Every India is a VIP on the roads now," Modi narrated the citizen saying.
Soon, it was time to talk of 'digital India', another signpost of Modi's 'new India'.
Modi exhorted young people to use their upcoming summer breaks to "have new experiences, see new places and learn new skills". And while doing so, he urged them to use digital currency. He dangled the carrot of "earning money" while urging digital payments.
"The young anyway use digital currency a lot, but now they can earn. The government has given you a big opportunity to earn money. Use the BHIM app and refer it to others and earn money for referrals," Modi said, referring to the government's e-wallet app.