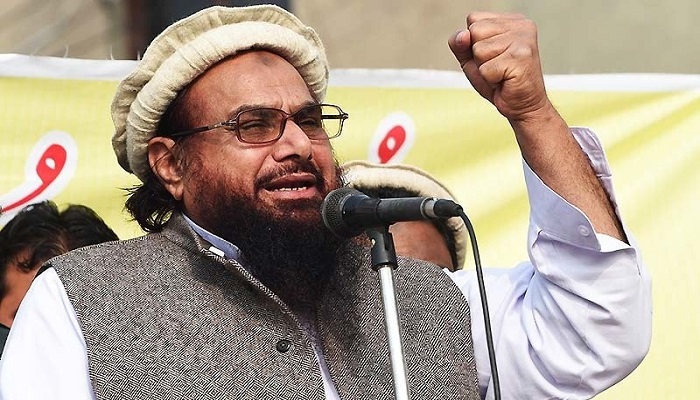 Mumbai attack mastermind and Jamaat-ud-Dawah chief Hafiz Saeed will remain under house arrest here for 90 days more after the expiry of his three- month detention period on Sunday night.
Pakistan's Punjab government on Sunday decided to extend the duration of the house arrest of Saeed and his four aides under the country's anti-terrorism act and the notification for it will be issued soon, an official of the Punjab government's Home Department said.
'The government has decided in principle to extend the house arrest of Hafiz Saeed, Prof Malik Zafar Iqbal, Abdur Rehman Abid, Qazi Kashif Hussain and Abdullah Ubaid for another 90 days' under preventive detention, he said.
The official said a consultative meeting on Saeed's detention has already been held under Interior Minister Chaudhry Nisar in which a decision to extend the house arrest has been taken.
The government on January 30 had put Saeed and the four leaders under house arrest in Lahore for their alleged involvement in activities prejudicial to peace and security. The house arrest was made for a period of 90 days ending tonight.
According to media reports, the Nawaz Sharif government had detained Saeed after the Trump administration, which had just taken over, had told Pakistan that it may face sanctions if it did not act against JuD and its chief.
The Jamaat-ud Dawah, the front group of the banned Lashkar-e-Taiba, and its sister organisation Falah-e-Insaniat Foundation, had also been put under terror watch on the basis of a report sent by the ministry of foreign affairs.
Saeed, along with his four aides, have filed a petition in the Lahore High Court challenging his detention through senior advocate A K Dogar. During the previous hearing on the petition earlier this month, the Punjab government had told the Lahore High Court that no violation of law had been made in their detention as it had reasons to believe that JuD and FIF are engaged in activities which can be prejudicial to peace and security.