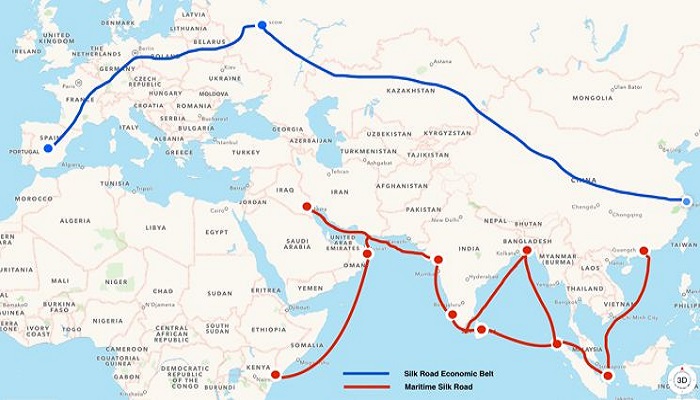 When Nepal's President Bidya Devi Bhandari came to India on a five-day visit, she didn't know that her country's northern neighbour, China was watching her first ever foreign trip very keenly. Bidya Devi Bhandari is a constitutional head of Nepal who has no decision making power, yet Beijing seemed to be wary of her visit because she wore on her sleeve a very high national symbol and it is that of President.
As per media reports, when Nepal Prime Minister Pushpa Kamal Dahal alias 'Prachanda' recently made a visit to China, his meeting with Chinese President Xi Jinping turned out to be one which led Prachanda come out with no fond memories. It is said that he was asked to implement all agreements signed between the two nations when KP Oli was the Prime Minister. No new bilateral agreement was signed between Nepal and China during Prachanda's visit. A few weeks after his arrival from China, Prachanda cleared the way for Bidya Bhandari's visit which could not take place last year as Nepal's ex-Prime Minister Oli cancelled it in the last moment in an attempt to embarrass India.
Apart from giving red-carpet welcome which included ceremonial reception at the Rashtrapati Bhawan, Bidya Bhandari was offered all necessary helps to make her trip comfortable and memorable. At the moment when China is leaving no stone unturned to make its forthcoming summit on One Belt One Road(OBOR) highly successful, India's attempt to throw all charms around Nepal would not have given Chinese authorities a good night sleep. India has also assured Nepal help in conducting local government body polls scheduled to be held in May and June. Conducting local body polls smoothly would help Prachanda strengthen his leadership further in the background of the fact that provincial and national elections are also going to take place later this year. This will be the first time in 20 years that local elections will take place in the Himalayan nation, which will pay the way for full transition of the country into republican democracy, besides unencumbered execution of developmental agenda of the government. But political parties in the Madhes region, Nepal's plain area which is home to around 50 percent of the country's total population, have threatened to boycott the polls to pressure Kathmandu to address their demands, including the amendment of Nepal's new Constitution. The Prachanda government has tabled the revised Constitutional amendment bill in Parliament, but it is not confident that whether Madhesis would welcome it or not. It is in this view, Prime Minister Modi's assurance to Prachanda of help during their telephonic talks on April 25, assumes high significance.
These developments have yielded India apparent strategic benefits. First of all, Nepal scaled down its first military exercise with China; the two countries initially planned to hold a battalion-scale military exercise. But given India's concern, Nepal Army not only cut down the size of its military exercise with Chinese Army's soldiers, code-named 'Sagarmatha Friendship 2017,' but also changed the venue to a military school. Secondly, Nepal has joined the league of the South Asian nations like Bangladesh, Maldives and Bhutan which have refused to sign their memorandum of understanding for their participation in the summit for the ambitious OBOR project. Only Lanka and Pakistan have confirmed their participation in the conclave to be held in Beijing on May 14-15.
India has already turned down the invitation and there is less likely that it would lower its guard on the China-Pakistan Economic Corridor on which Beijing has again hiked its investment from earlier $55 billion to $62 billion now. More than 20 countries, including Russia have agreed to join the two-day conclave.
In the meanwhile, in the ongoing tug of war between India and China on the OBOR initiative, seen by New Delhi as China's design to create facilitation for increasing its strategic foot prints across the world, besides dumping cheap Chinese goods in to the markets of Asia, Middle East, Africa and Europe, some South Asian countries have fallen victim to the catch-22 situation. The countries like Sri Lanka, Bangladesh, Bhutan, Maldives and Myanmar which, apart from sharing close boundaries, enjoy good relations with India, don't want to jeopardize their bilateral engagement with Beijing as well. Sri Lankan has already communicated to Beijing that it would be represented by Prime Minister Ranil Wickremesinghe instead of President Sirisena at the summit. In consonance with India's maritime and strategic interests, Colombo has assured India that Hambantota port, whose more than 80 percent share the Sri Lankan government could not sell to China Merchants Port Holdings for 99 years because of stiff opposition from public and within the government, would not be allowed to become a 'military port.' The same assurance was given by the Sri Lankan Prime Minister during his recent visit to Japan. Also, he had assured his Japanese interlocutors that foreign forces would not be allowed to use Hambantota and other ports in Sri Lanka in a way inimical to the interests of other countries. That means China's design to turn Hambantota port into a strategic part of its OBOR initiative, has been blunted.
On the other hand, India has been successful in stopping Bangladesh from being completely swallowed away by China. The manner Prime Minister Narendra Modi, breaking all protocols, went to the Palam airport in New Delhi to receive Bangladesh Prime Minister Sheikh Hasina and then extended $5 billion worth of assistance for the purchase of defence equipment and another tranche of $4. 50 billion for the development of infrastructure, it showed that New Delhi would do anything to restrict Dhaka from becoming another client state of China in South Asia. After Pakistan, Bangladesh was the second-largest recipient of Chinese equipment between 2011 and 2016. Dhaka received a pair of Ming-class Type 035B diesel electric submarines from Beijing in 2016. In the same year (October, 2016), Xi Jinping made first ever Chinese presidential visit in 30 years to Bangladesh.
During the visit, the two countries had signed 27 deals and MoUs totaling $13.6 billion. China-Bangladesh ties were also elevated from a comprehensive partnership to a strategic partnership. But playing a smart game and that too just before the planned OBOR summit to which Dhaka is also one of the invitees, India hosted Sheikh Hasina and stymied Beijing's effort to lure Bangladesh away from India's influence. Sources say that one would witness its impact in the course of Dhaka's representation at the forthcoming OBOR summit in China. They refused to elaborate on this account, but agreed to say that the initiative would "fumble and tumble" in the long run, a meaning whose link can be seen in India's invitation to Nepal President Bidya Devi Bhandari before the planned summit.
It should be noted that Kathmandu has not signed the MoU for its participation in the OBOR project even though during his recent visit to China to address the Boao Forum for Asia, held in Henan province from March 23 to 26, Nepali Prime Minister Pushpa Dahal Prachanda was pressurized by Chinese authorities to implement all projects and schemes discussed between the two countries. China is not happy with the Prachanda government for its leanings towards India. Rubbing salt to China's injured feeling, while Nepal's Foreign Minister Prakash Chandra Mahat has visited India six times since last year, he has not made a trip to China even once. Amid this, what message Bidya Devi Bhandari's visit to India has sent to Beijing can be well decoded when the OBOR summit takes place. Indication is that Prachanda will not lead the Nepalese delegation at the summit. Bhutan and Maldives will send their representation to the two-day summit, yet their participation, according to sources, will be there for the formality sake.