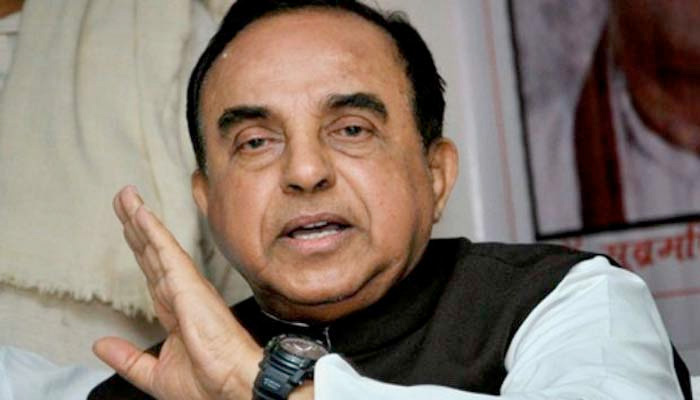 Listing out his strategy to respond to Pakistan over its brutal Krishna Ghati attack, Bharatiya Janata Party (BJP) leader Subramanian Swamy on Tuesday called on the Centre to break the backbone of Pakistan's economy by removing the Most Favoured Nation (MFN) clause of trade.
Swamy opined that the things which benefit Pakistan like the Most Favoured Nation (MFN) clause of trade which enables Islamabad to enter the Indian boundary without permit, should be removed. "We have to be careful that they do not feel that we have no response. So, we should divide our strategy into three parts. One is immediate action, second is medium-term and third is long-term," Swamy told ANI.
In the medium-term, Swamy suggested that India should target those 42 camps, one of them in which Jamaat-ud-Dawa (JuD) chief Hafiz Muhammad Saeed also stays. For long-term, Swamy said India should work for breaking up Pakistan into four countries and should start this by recognizing Balochistan right away by setting up a Human Rights Centre. "We should also bomb Dawood's residence. These surgical strikes have lost their meaning as it is followed by two months of peace but then we are back to the same," he said.
Swamy also opined that the Pakistan Embassies should be closed down. "There are around 1,000 employees in Pakistan embassy in Delhi and around 300 in Mumbai. That is useless as there are all defacto prisoners & they are all ISI recruited people. They are playing havoc with our local Muslim people," Swamy opined.
Swamy opined that India should retaliate by bombing Pakistan's camps, whatever the consequences be."This is not new. They have done it in the past. They did it in the Kargil.
It's a rogue state. It is not a civilised country. It was a mistake to have created this country at all. Therefore, we have to retaliate. This time the retaliation should be bombing of their camps, no matter what the consequences be. Be ready for war. Indian people are ready for sacrifice," Swamy told ANI.
Pakistan yesterday mutilated bodies of two Indian soldiers who were killed earlier in a ceasefire violation at Jammu and Kashmir's Krishna Ghati sector.The Indian Army confirmed the news, releasing a statement on Twitter."Pak Army carried out unprovoked Rocket and Mortar firing on two forward posts on the line of control in Krishna Ghati Sector.
Simultaneously a BAT action was launched on a patrol operating in between the two posts. In an unsoldierly act by the Pak Army the bodies of two of our soldiers in the patrol were mutilated. Such despicable act of Pakistan Army will be appropriately responded," read the Indian Army's statement.