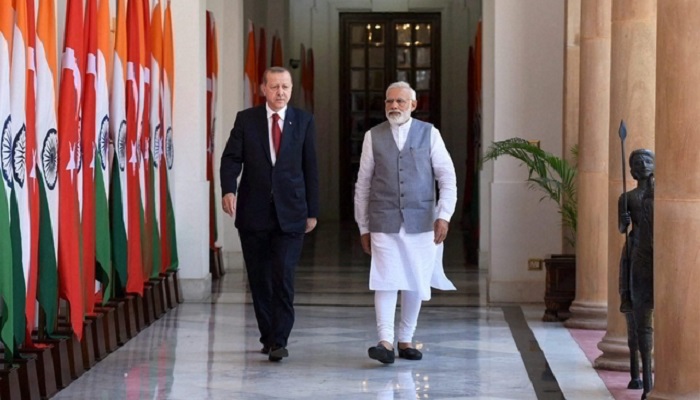 Turkish President Recep Tayyip Erdogan who is visiting India for two day bilateral visit had made a controversial statement regarding India-Pakistan conflict.
Turkish president suggested for a multilateral dialogue on the matter.
Turkish president's comments on Kashmir WAS  made during a TV interview ahead of his visit to India.
Erdogan had said, "We should not allow more casualties to occur (in Kashmir). By having a multilateral dialogue, (in which) we can be involved, we can seek ways to settle the issue once and for all."
The remarks were not well received here as they were contrary to the position of India, which maintains that the Kashmir issue is a bilateral matter between it and Pakistan, and that there is no scope for a third party mediation.
Asked if the Kashmir issue or Erdogan's proposal of multilateral dialogue to resolve it figured during the meeting between the two leaders, External Affairs Ministry Spokesperson Gopal Baglay said India's position that Kashmir is its integral part is very sharp and publicly known.
"We conveyed our viewpoint clearly on terrorism and Kashmir (to the Turkish side). It was made clear that there cannot be any justification for terrorism whatever is the intent. We clearly conveyed that the issue of Kashmir is essentially an issue of terrorism."
"We told them that we have been victims of cross-border terrorism and state-sponsored terrorism for 40 years. As far as Kashmir issue is concerned, we have always been ready to resolve it with Pakistan. Not only Kashmir but also all other bilateral issues should be resolved in a peaceful manner," Baglay said.
He also said that the government has made many attempts to have bilateral talks with Pakistan to address issues, including Kashmir as per the Shimla Agreement and the Lahore Declaration.
Asked about the response of the Turkish side, Baglay said they heard it "care and attention".
India's discussion on Kashmir with Turkey came on a day when two Indian security personnel were beheaded by Pakistan army in Jammu and Kashmir.
Earlier, addressing a joint media event with Erdogan, Modi said countries across the world need to "work as one to disrupt the terrorist networks and their financing and put a stop to cross-border movement of terrorists", in an obvious reference to Pakistan-based terror groups.
The international community also need to stand and act against those that conceive and create, support and sustain, shelter and spread these instruments and ideologies of violence, the prime minister added.
Condemning the Naxal attack on CRPF personnel on April 24 in Sukma, in which 25 of them were killed, Erdogan said, "Turkey will always be by the side of India in full solidarity while battling terrorism… And terrorists will be drowned in the blood they shed."
Asked if there was a difference of opinion on the definition of terrorism as Modi talked about cross-border terrorists and Erdogan mentioned the Fethullah Gulen Terrorist Organisation (FETO), Baglay said there was a convergence on condemning terrorism and an agreement that it was a menace which needed to be tackled effectively.
The spokesperson also said the Turkish side mentioned the presence of FETO (in India). "Any organisation in India has to work within the parameters of our laws, rules and regulations," he added, without mentioning if India has assured action against the group.
During his statement, the Turkish president had referred to the FETO, saying the outfit is active in 170 countries. He said the Turkish government has informed the countries about FETOs operations and hoped India will take action against it.
After a failed coup in July last year to topple Erdogan, Turkey had blamed the FETO for it and said the outfit has "infiltrated" India. Turkey had also asked India to take action against the organisation.
"We will never bow down to terrorism or the propaganda of the terror outfits," Erdogan, who also invoked Mahatma Gandhi, said. He said terror outfits will never be able to "shackle our resolve" to combat the menace.
Modi and the Turkish leader had a comprehensive discussion and took stock of full range of bilateral relations, including political and economic, the external affairs ministry said.
Referring to changing times where societies face new threats and challenges every day, Modi said the context and contours of some of the exiting and emerging security challenges globally are "our common concern".
"In particular, the constantly evolving threat from terrorism is our shared worry. I held an extensive conversion with the Turkish president on this subject. We agreed that no intent or goal or reason or rationale can validate terrorism," the prime minister said.
The two leaders, who addressed a India-Turkey business forum earlier in the day, also pitched for enhanced trade and business ties.
Observing that India and Turkey are two large economies which present an enormous opportunity to expand and deepen commercial linkages, Modi said at the level of the two governments, there is a need to approach the entire landscape of business opportunities in a strategic and long-term manner.
"Our bilateral trade turnover of around 6 billion dollars does not do full justice to convergences in our economies. Clearly, the business and industry on both sides can do much more," he added.
He further said, "We would like to encourage stronger partnership of Turkish companies with our flagship programmes and projects, either on their own or in collaboration with the Indian companies."
Erdogan also emphasised the need to increase bilateral trade to at least USD 10 billion, as soon as possible, and added that the countries will look at ways to expand cooperation in the energy and infrastructure sectors, in particular.
After the Modi-Erdogan meet, the two sides exchanged three pacts, including one between their telecom authorities.
In his media statement, Modi also referred to Rumi and Sufi tradition in India. "While Rumi found his home in Turkey, his legacy continues to enrich the Sufi traditions of India as well," he said.
Modi also thanked Erdogan for his country's support to India's aspiration for Nuclear Suppliers Group (NSG) membership as well as other export control regimes like Missile Technology Control Regime.
Turkey has been maintaining that the NSG should come out with a system to consider the entry of countries which are not signatory to the Nuclear Non-Proliferation Treaty (NPT). It has also supported Pakistan's case for NSG membership.
There was also convergence on United Nations Security Council reforms during the meeting of the two leaders, Baglay said.