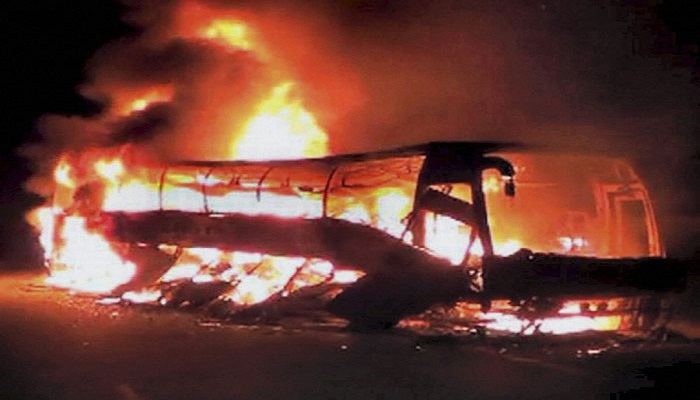 At least eight people, including two kids, were charred to death and several others were injured after a bus caught fire at Harnaut Bazar in Nalanda district of Bihar on Thursday.
The packed bus was heading towards Bihar Sharif from Patna, while it suddenly caught fire near Harnaut Bazaar. The cause of fire is yet to be determined as the government officials have not reached the spot.
The locals have blocked Patna-Bihar Sharif road demanding compensation for the deceased who are yet to be identified.
The fire was controlled by the locals. The reason for the fire is suspected to be two gas cylinders which were allegedly kept atop the bus and were thrown out by passengers who sat on the roof.
The driver and helper of the bus are reported to be absconding after the bus caught fire.   
The deceased and the injured were taken to local hospital in Bihar Sharif, the district town of Nalanda district of Bihar. Nalanda is also the home district of Bihar Chief Minister.