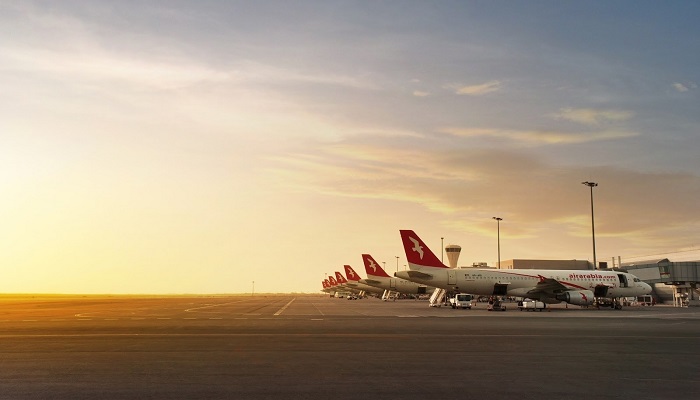 For improving communication between passengers and customers, Sharjah Airport Authority recently rewarded the top three winners of the "Because We Care" Customer Feedback Questionnaire Programme.
The winners were among the passengers and airport users who responded to the Questionnaire Programme, which is an innovative tool for the authority to communicate with customers and passengers and gain valuable insights on the services and facilities they expect.
 
Ms. Alya Obaid Al Shamsi, Director of Marketing and Customer Relations, presented the awards to the winners.
The top three winners were Khalifa bin Rashid Al Saeedi from the Sultanate of Oman, Mohammed Tamer Aboud from Guinea-Bissau and Bawn Ghandi from India. They won free tickets from Air Arabia, in recognition of their participation in the programme.
Commenting on the occasion, HE Sheikh Faisal bin Saud Al Qasimi, Director of Sharjah Airport Authority, said: "Sharjah Airport Authority is committed to engaging the users of Sharjah International Airport in all the programmes and initiatives launched by the authority. Through these programmes and initiatives, we are keen to open the channels of communication with all the airport's users to identify their feedback and suggestions with the aim to improve the services".
 
He added: "The "Because We Care" programme is one of the initiatives which enables us measure our performance and the quality of services we offer to the airport's users".
 
He extended thanks to Air Arabia for presenting awards to the winners since the launch of the programme, which helped the programme achieve success and excellence. 
 
Ms. Alya Obaid Al Shamsi, Director of Marketing and Customer Relations, said: "'Because We Care' is part of the customer incentive programmes. Passenger response was excellent, as we received many positive suggestions, some of which were studied and implemented. Benefiting from the feedback of passengers about the facilities and services at the airport is the optimal method of evaluating our performance and improving our services."
Sharjah Airport Authority launched the programme in 2009 with the aim of monitoring the feedback of airport customers about services and facilities offered, while giving them the ability to evaluate their travel experience. The programme enables the management to identify customer suggestions about the airport development and the services they would like to see at the airport.
 
Airport users can submit their feedbacks and evaluate the services offered at the airport by using the website www.sharjahairport.ae or by filling out a questionnaire form available in the Arrivals and Departure terminals. They can also use mobile devices to have direct interviews with the airport's employees.
In addition, feedback can be shared using Sharjah International Airport's mobile application.